Hi, Mark, with the Perfect Paver Company here to answer another frequently asked question. Today's question is, "Will sealing my pavers, make them look brand new again?"
So, unfortunately in most cases, the answer is no, unless of course your pavers are brand new. So what I want to try to do today is educate you on what you can expect from sealing your pavers. And I want to start by giving you a little education on how a paver is made and what happens as it weathers and how that affects the appearance that you get when you seal your pavers.
How A Paver Is Made
So, the first thing I want to do is explain to you how a paver is made. So when they make a concrete paver, it's a mixture of aggregates, medium-sized small size, sand, and Portland cement. The Portland cement is the powder. That's the gray stuff that you see mixed in around all of the rocks. The Portland, cement, and the sand mixed together is where the color lives. So when they made this paver, they mixed all of those ingredients, the sand, the small rocks, and the Portland cement together. Then they mixed it with a color additive; the color additive lives in that Portland cement.
So if you look at the top of a weathered paver, you'll see that you start to see some of those rocks, the Portland cement has weathered away. And as I mentioned before, all of the color lives in the Portland cement, you can now see the natural color of the rocks. So the more your paver weathers, the more rocks are exposed and the less color containing product is still left in the paver.
Older Paver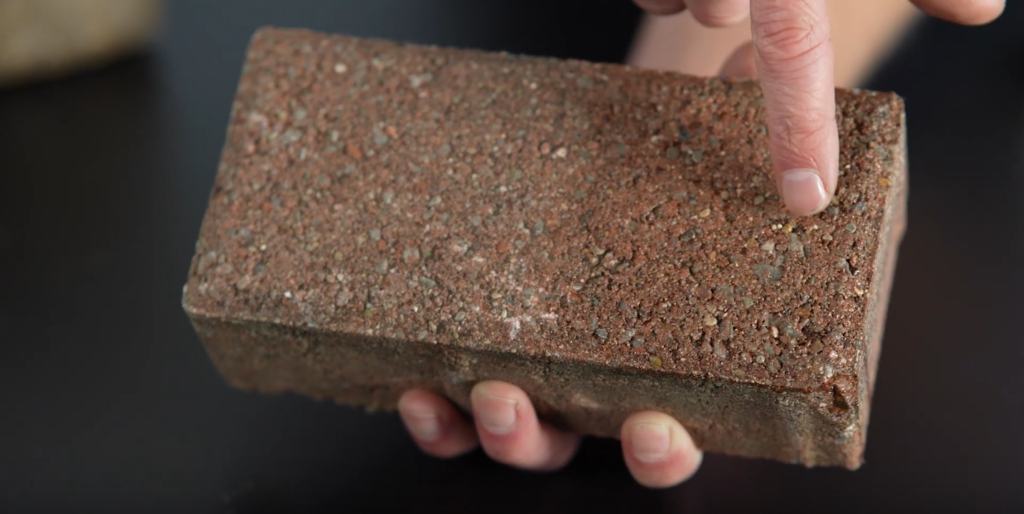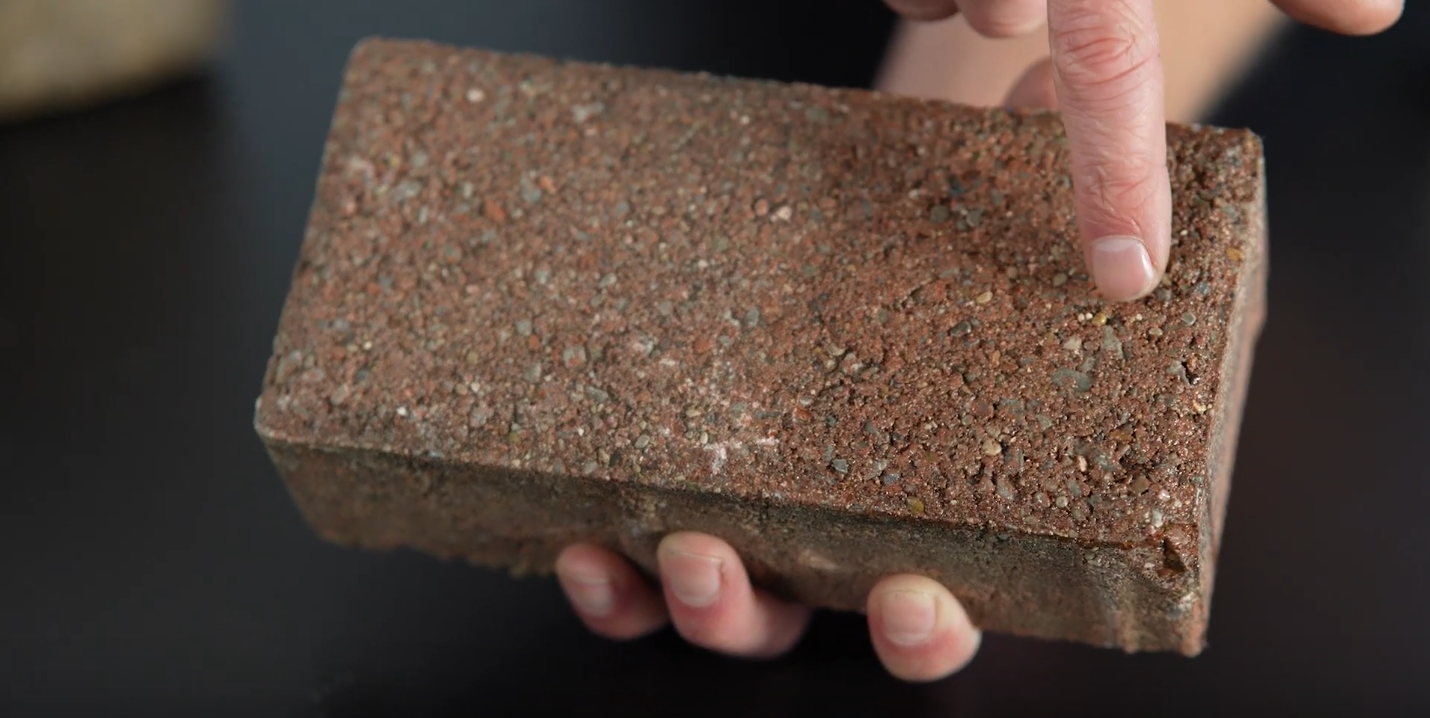 So here, I've got this paver that's been sealed on this side, not sealed on this side, and you can see there's definitely some color enhancement, but it doesn't look as good as it could look because of the aggregate being exposed in the paver.
The way that a paver weathers is actually by rain. So as rain continues to hit the surface of the paver, it will start to deteriorate the finer material or the Portland cement from the surface of the paver and start to expose those little aggregate pieces. You can actually see this, if you look at your pavers that are maybe under the overhang or under a roof at your front door and compare those to the pavers that are further out in your yard or your driveway.
You'll notice that you'll see more exposed aggregate to the pavers that are exposed to rain versus the pavers that aren't.
Newer Paver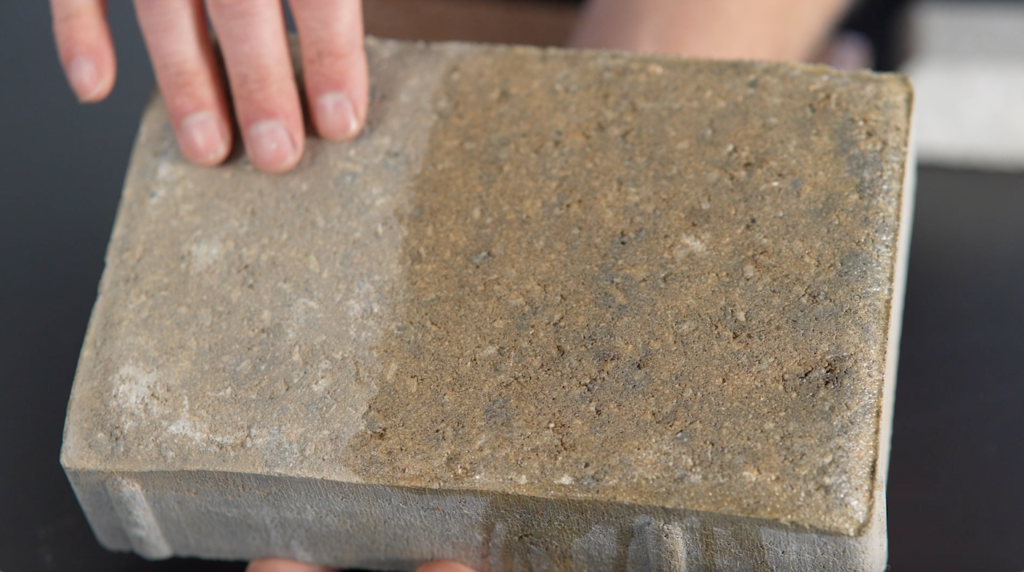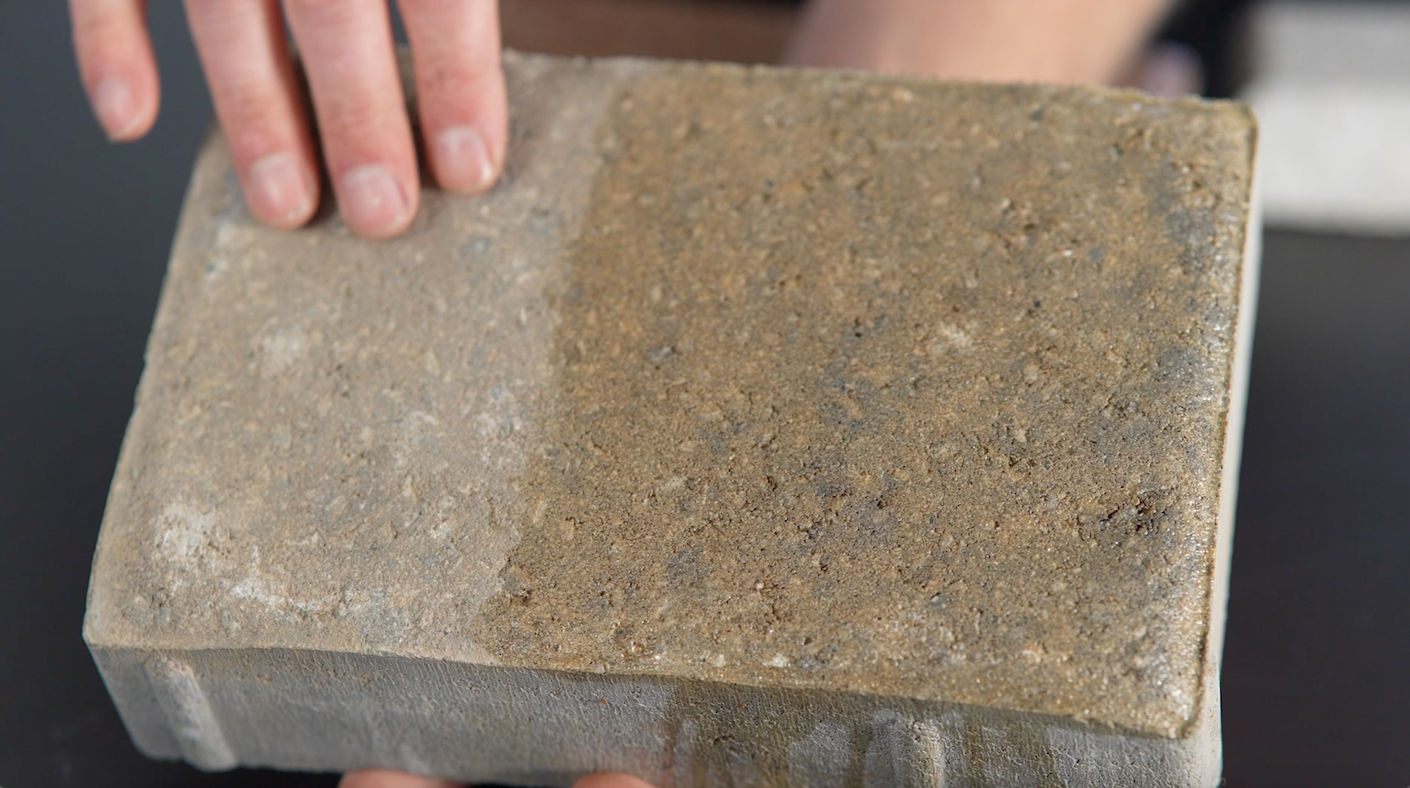 So if you look at a newer paver, you will see that you don't see any of the exposed aggregate. You'll notice the before, it's more of a muted out a look, and then it's enhanced pretty significantly by being sealed because there's more of the pigment, more of the Portland cement that contains the pigment left in the surface of the paver. Therefore, you're going to get more enhancement when we seal it.
Comparison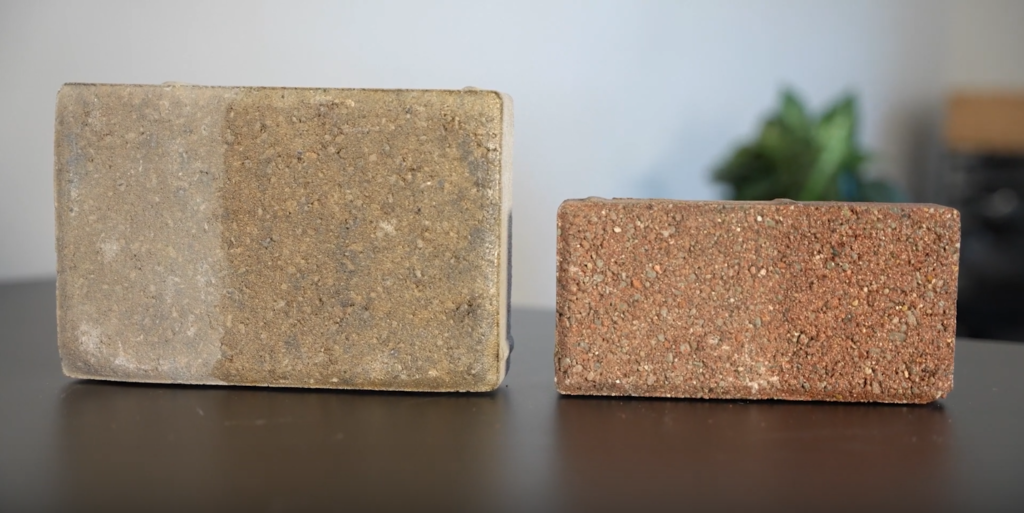 So side by side, they both been sealed. And as you can, you're getting more enhancement from the new paver than you would from the older paver, primarily because of the pigment.
Color of Your Paver
So I talked about how the age and how a paver is weathered plays a role and the results that you get from sealing your pavers. The other thing that I want to talk about is the actual color of your paver. So there are a few different color ranges or color options when you get pavers. You can have more vibrant colors like reds, oranges, greens, blues, and you can have more earth-tone color pavers, like tans, grays, and those types of colors.
Typically, when a manufacturer makes a paver in an earth tone color, they're trying to make it look like nature. So the color isn't going to be as enhanced, it's not going to be as vibrant, it's going to be a little muted out and feel more natural and organic. When you go with reds, oranges, blues, and greens, it's intention is to be vibrant.
So when you seal a paver that has that vibrant style color, like a red, green, blue, orange, you're going to get a lot more enhancement, but still needing to factor in the age of the paper because you can see a difference. This is a red paver here on the right and a natural tone paver on the left. You're getting more enhancement here on the left, but this is a brand new paver. This red one is probably a 20 year old paver.
So color plays a big role as well. Reds, blues, green, oranges; they're going to get more color enhancement, while earth-tone colors like tans and grays; you're going to have less color enhancement from those. But that should be expected because you're hoping for those colors to continue to be more earth tone, natural, organic looking.
How Well Have Your Pavers Been Maintained Throughout Their Life
The third factor in determining how well your papers are going to react to being sealed is how well they've been maintained throughout their life.
If it's an older paver, but it's always been regularly sealed, then it's more likely to have less exposed aggregate because the sealer, if it's kept on a paver will help prevent that deterioration from happening.
Sometimes we get the most difference between the before and after on pavers that have been previously sealed and most importantly pavers that have been previously sealed incorrectly. So when a paver has been sealed incorrectly, the sealer will eventually turn a milky white and hide all of the color like the picture below.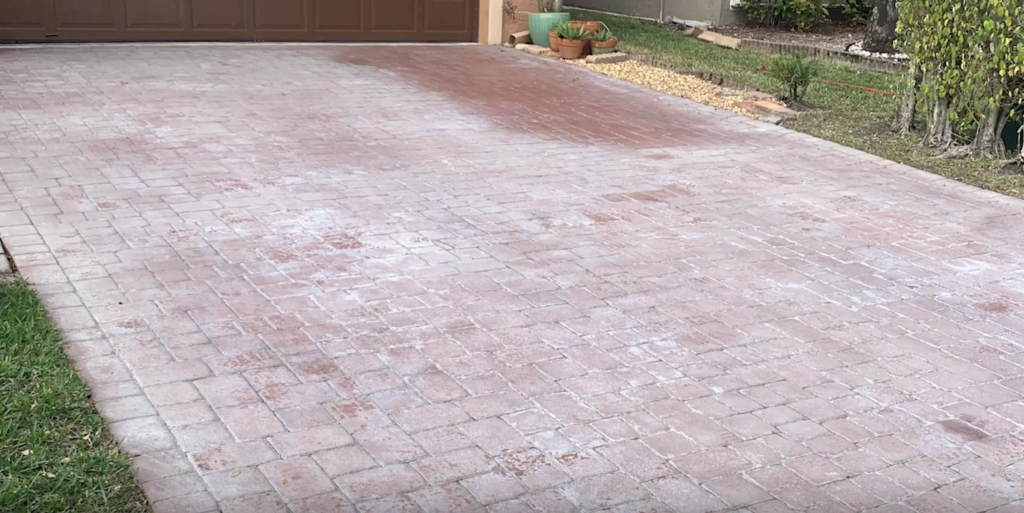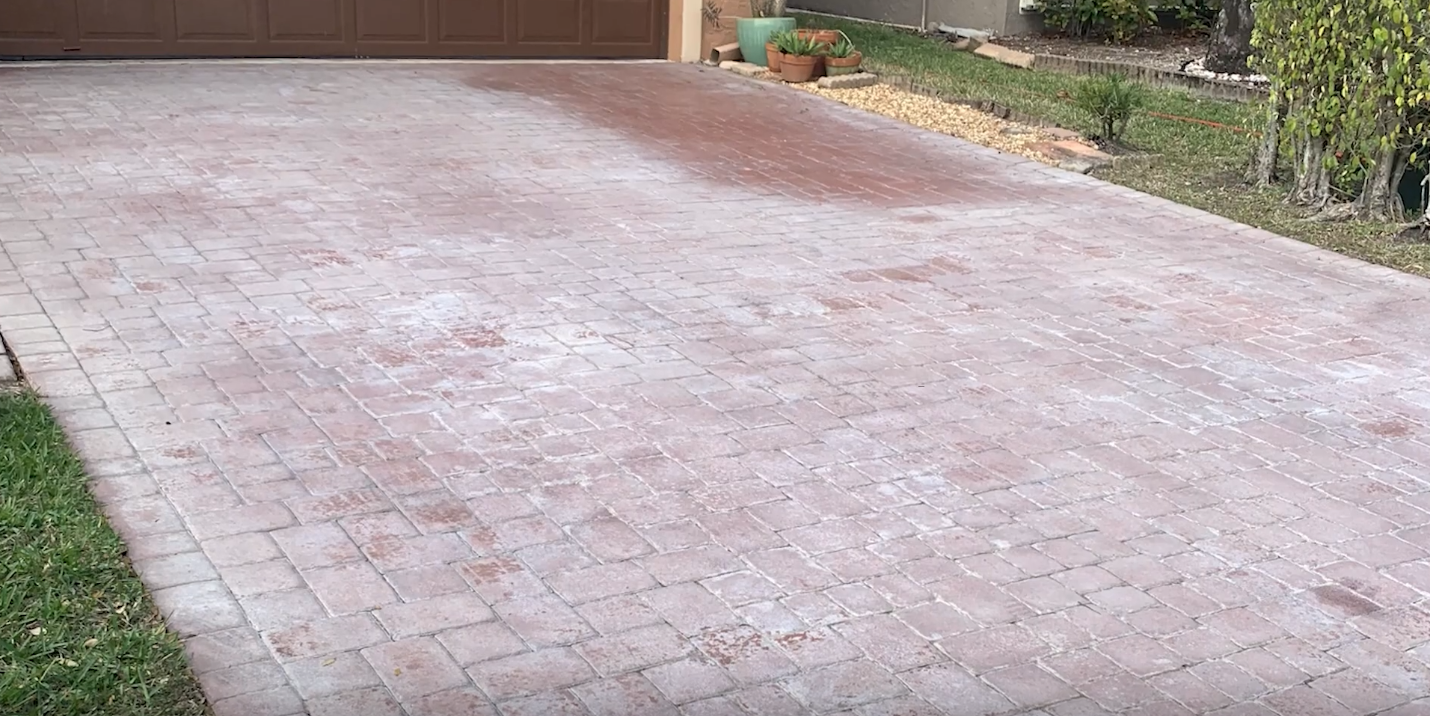 It will appear as if all of the color in the paver has faded away. However, when we come in and strip all of that sealer away, then you get to see what you actually have left in terms of color and that paver and then we reseal it and all of that color comes back to life.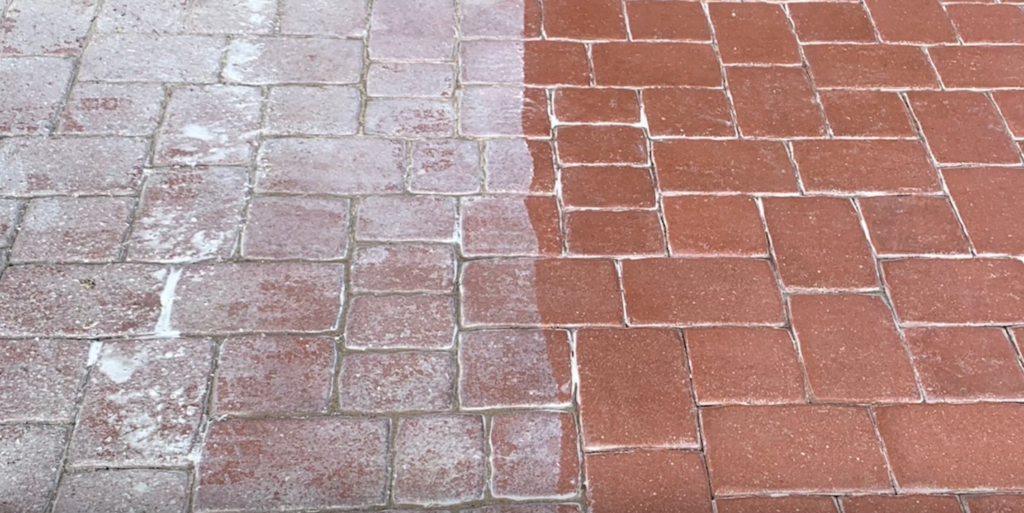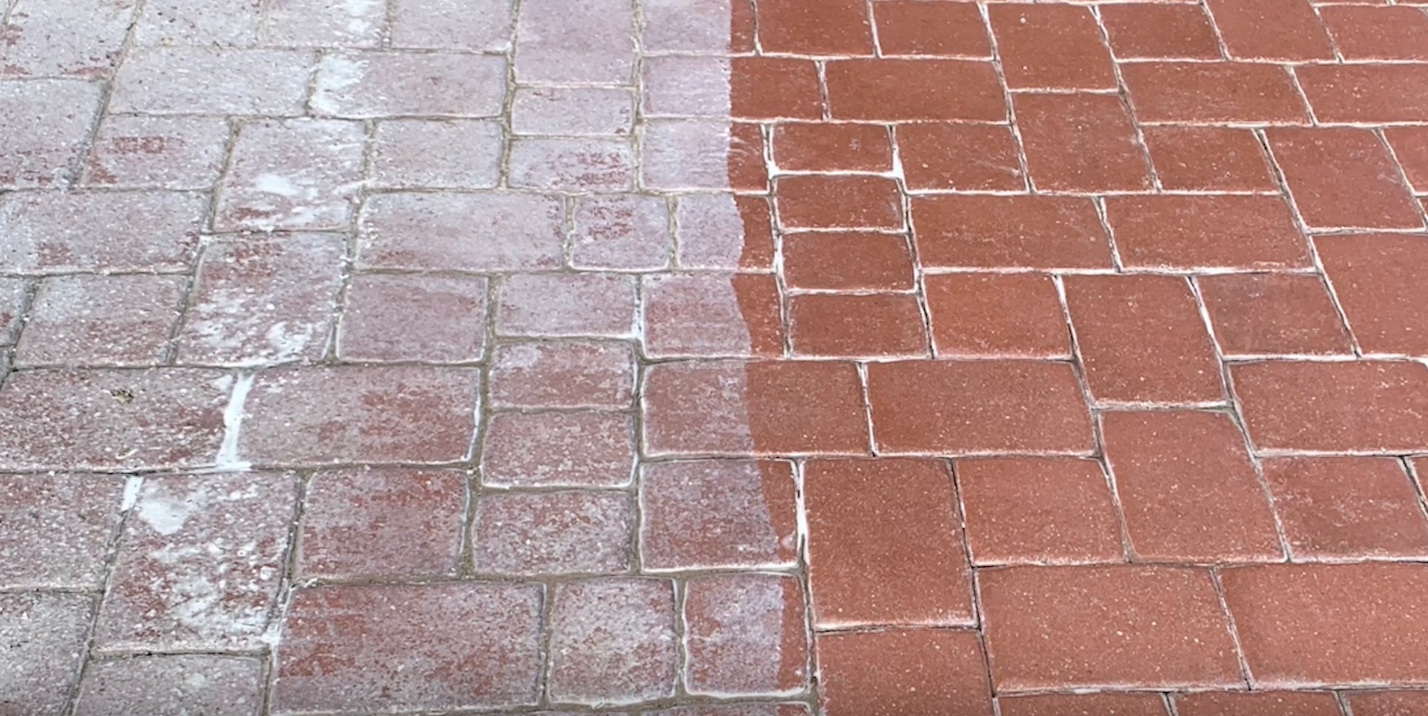 So when you're looking at a before and after of a job that was sealed previously incorrectly, and it had been sealed a lot, or it's a newer paver, like the example below, and then it's been stripped and resealed correctly, it looks very dramatic in the before and after, but we didn't do anything to that paver other than strip it and reseal it correctly.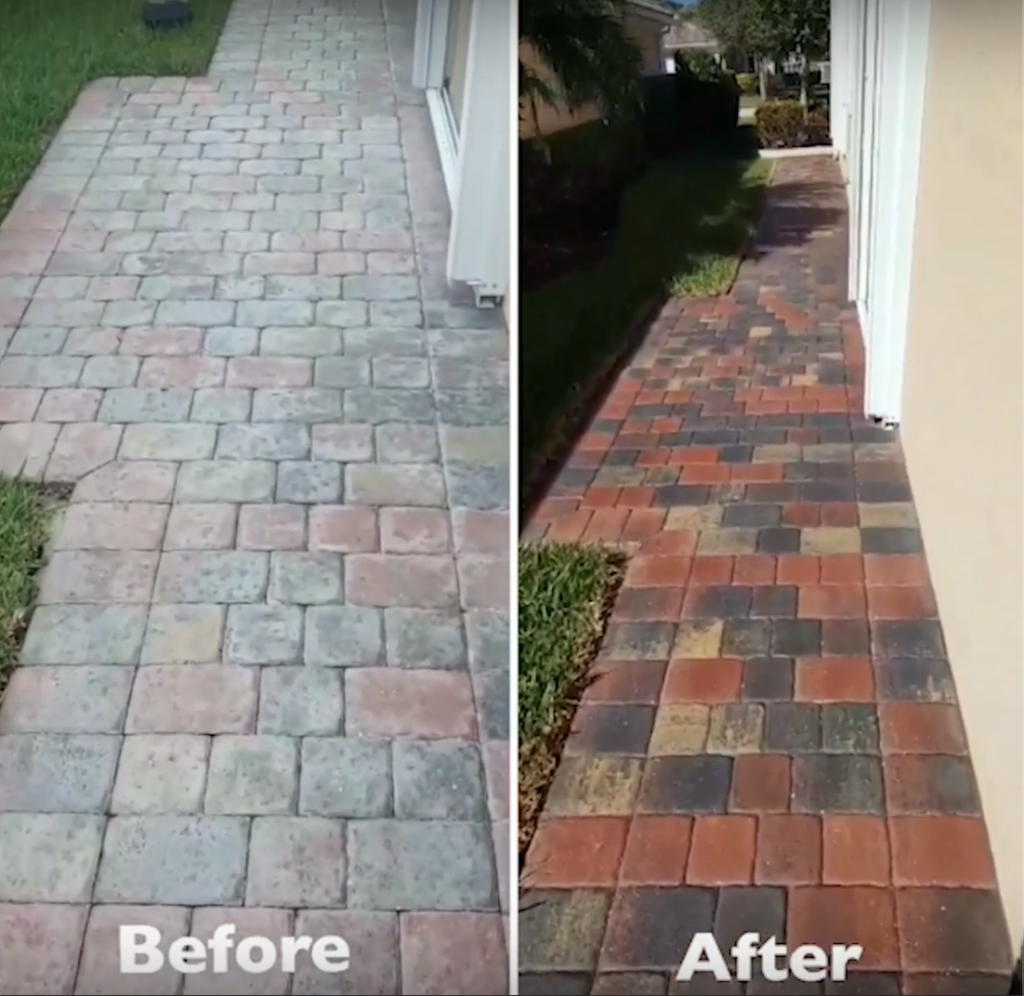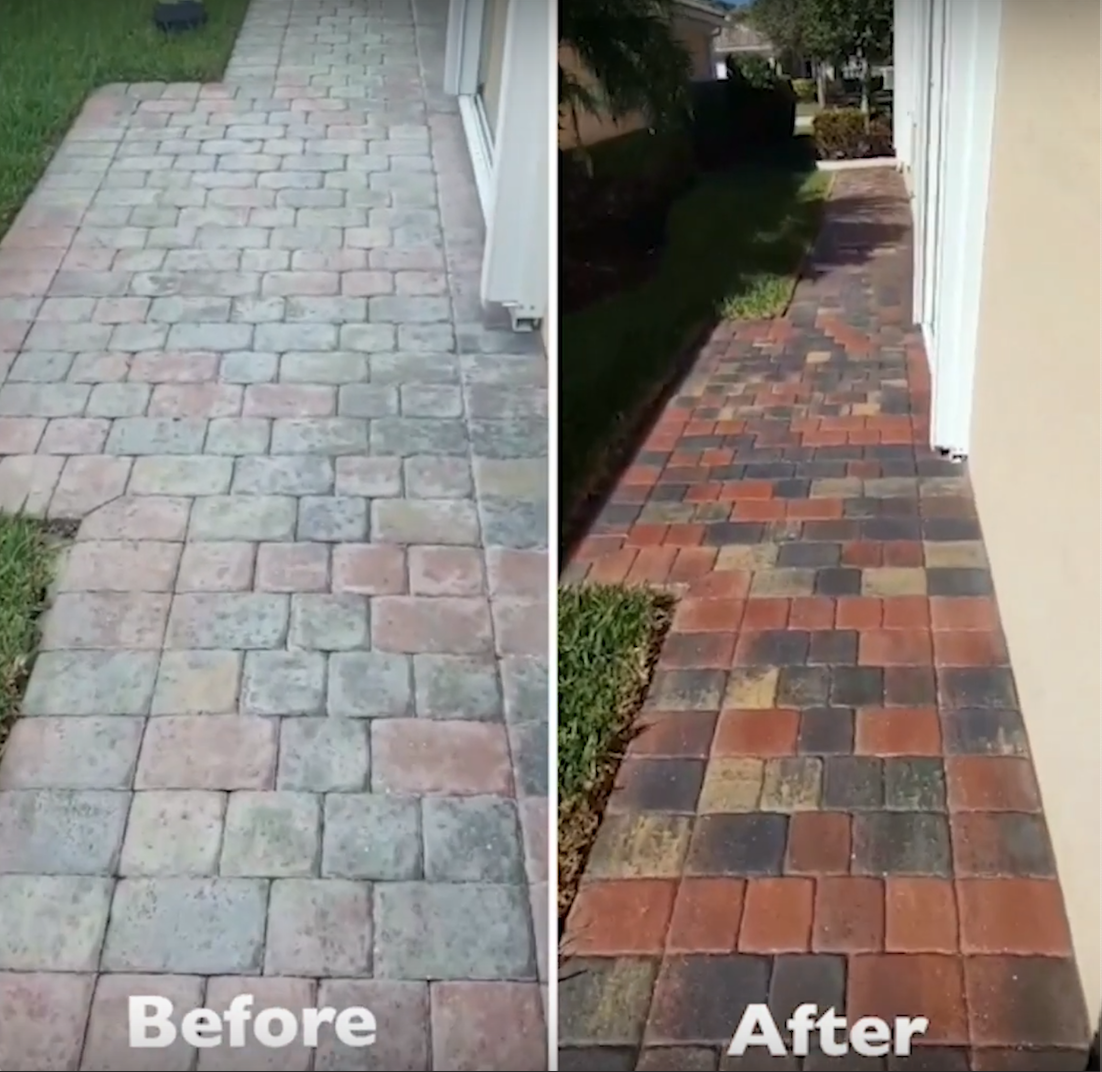 So, that's why you're seeing the most dramatic difference in those pictures because of the fact that the sealer had turned white and failed, and once that's removed and sealed correctly, you get a lot of pop or a of enhancement if the paver that we stripped does, in fact look good under the sealer or it's been well maintained.
So that hopefully gives you a quick rundown on what you can expect by sealing your pavers. Please comment below with any questions that you might like me to answer in my next frequently asked question video.
Thanks, Mark from Perfect Paver Company!