Paver, Chicago Brick and Nature Stone Steam Cleaning, Repair and Paver Sealing Experts of Southeast Florida
Serving Martin, Palm Beach and St Lucie Counties: Jupiter, Palm Beach Gardens, Lake Work, Wellington, Boynton Beach, Boca Raton, Hobe Sound, Vero Beach, Port St Lucie, West Palm Beach, Palm Beach, Delray Beach, Tequesta, Palm City, Stuart, Jensen Beach and Surrounding Areas. Broward County, click here.
Paver Clean and Seal in Palm Beach, Martin and St Lucie Counties FL
---
What Makes Perfect Paver Co different?
Read Bill S.'s review of Perfect Paver Co of Palm Beach on Yelp
Welcome to the Perfect Paver Co. We're a group of passionate people dedicated to providing the highest level of customer service possible, the highest quality products and services and maintaining a flawless reputation. We specialize in the restoration of any exterior natural stone or paver surface including your paver patio, paver driveway, paver pool deck and pavers installed on residential and commercial properties. As well, we specialize in installing polymeric sand grout in paver and natural stone joints.
We're quick to return your phone call both before the sale and if you have a question or concern after the job is complete. We hire and train career minded individuals and create a culture where everyone on the team is passionate about paying extreme attention to detail and making every customer happy. We have invested a tremendous amount of time, and trial and error in developing the highest level of products for sealing pavers and natural stone like travertine pavers. We have also developed a Steam Cleaning process and equipment that enables us to achieve the highest level of clean without the use of harmful chemicals.
Our Paver Cleaning and Paver Sealing process is unlike any you'll see here in South Florida primarily due to our paver steam cleaning process, the experience and attention to detail of our team, the quality of our sealers and the capabilities of our equipment.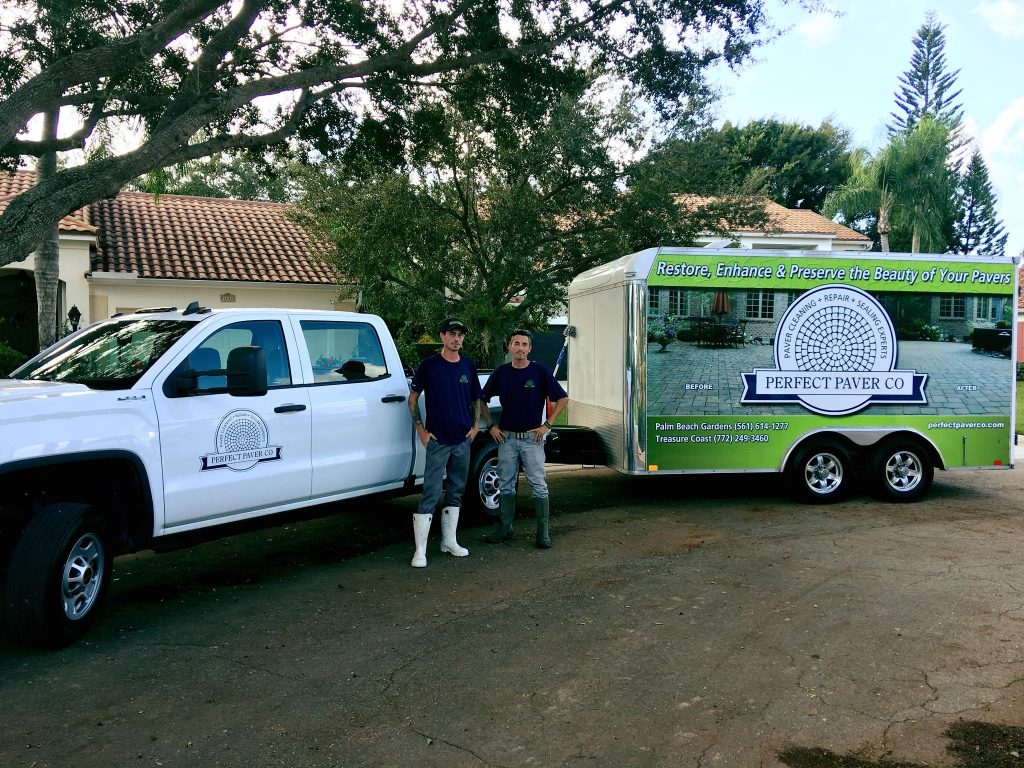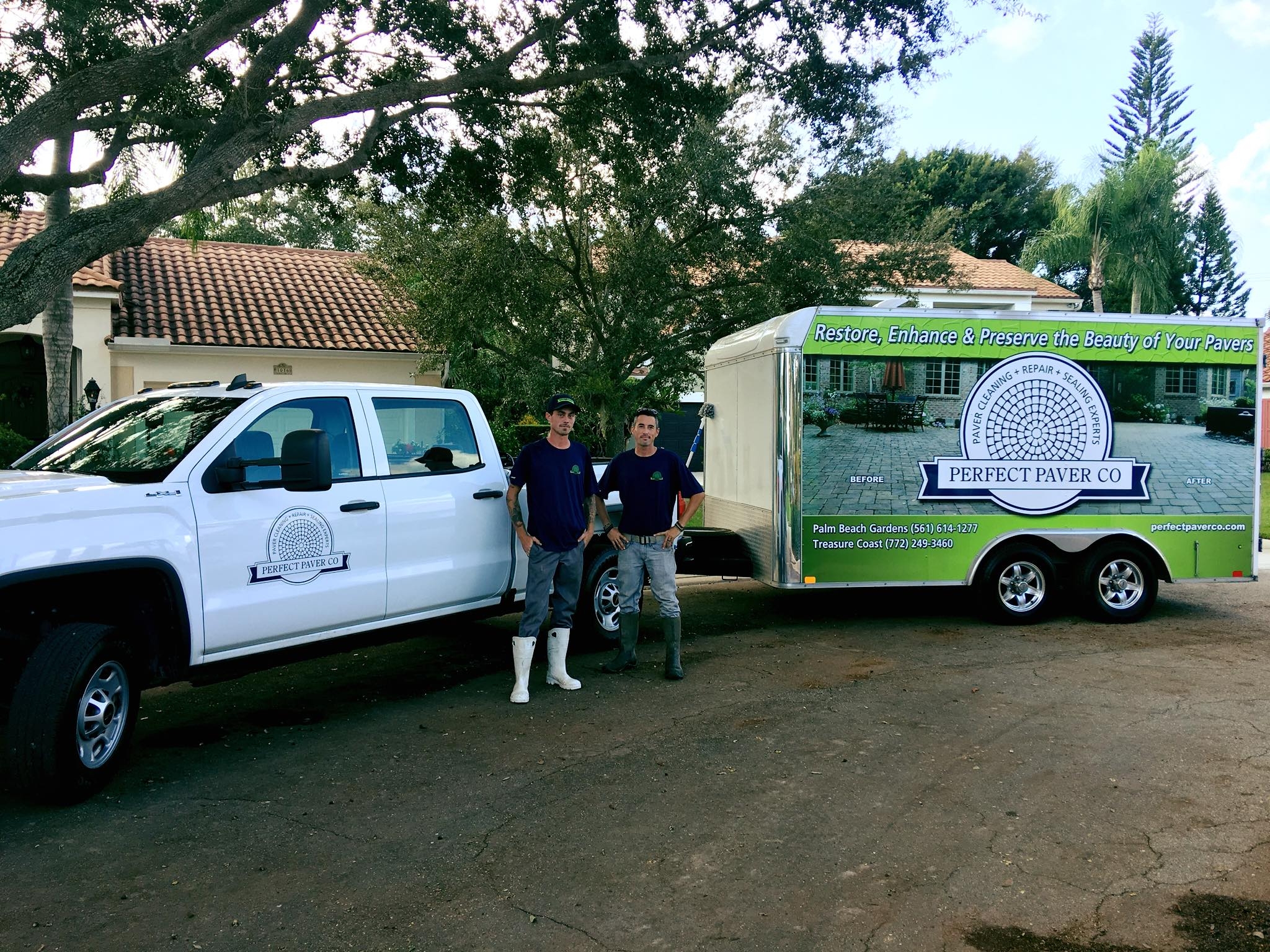 Nicholas Harris, Supervisor (Left) Michael Como, Sealing Technician (Right)
How good will my pavers look?

This is a great question, and there are a lot of variables that come in to play that determine the final outcome of your project. We have paver and natural stone sealers designed to both leave a natural look as well as an enhanced look. We do not offer it, nor do we recommend high-gloss paver sealers in Florida. These sealers trap moisture in the paver and become very problematic (more about that here).
What you should understand is, we seek out to make every job we do look the best it possibly can. So, we're looking at the entire paver system to make improvements. This includes: are there repairs needed, do the edges need reinforced to prevent future shifting of the pavers, has the joint sand washed out and replaced with dirt, etc. Once we take all of these items in to consideration, we create a proposal specific for your project on how we recommend bringing your pavers or natural stone back to life.
Here are some before and after pictures to give you an idea:
HOVER YOUR MOUSE OVER A PICTURE TO STOP IT
Unlike traditional cold water pressure washing of pavers, our steam cleaning process is able to achieve an unbelievable clean without the use of harsh chemicals. In addition, the steam will kill and remove black mold and mildew on contact vs. cold water which may remove the black stain from the surface but leaves the spore still alive.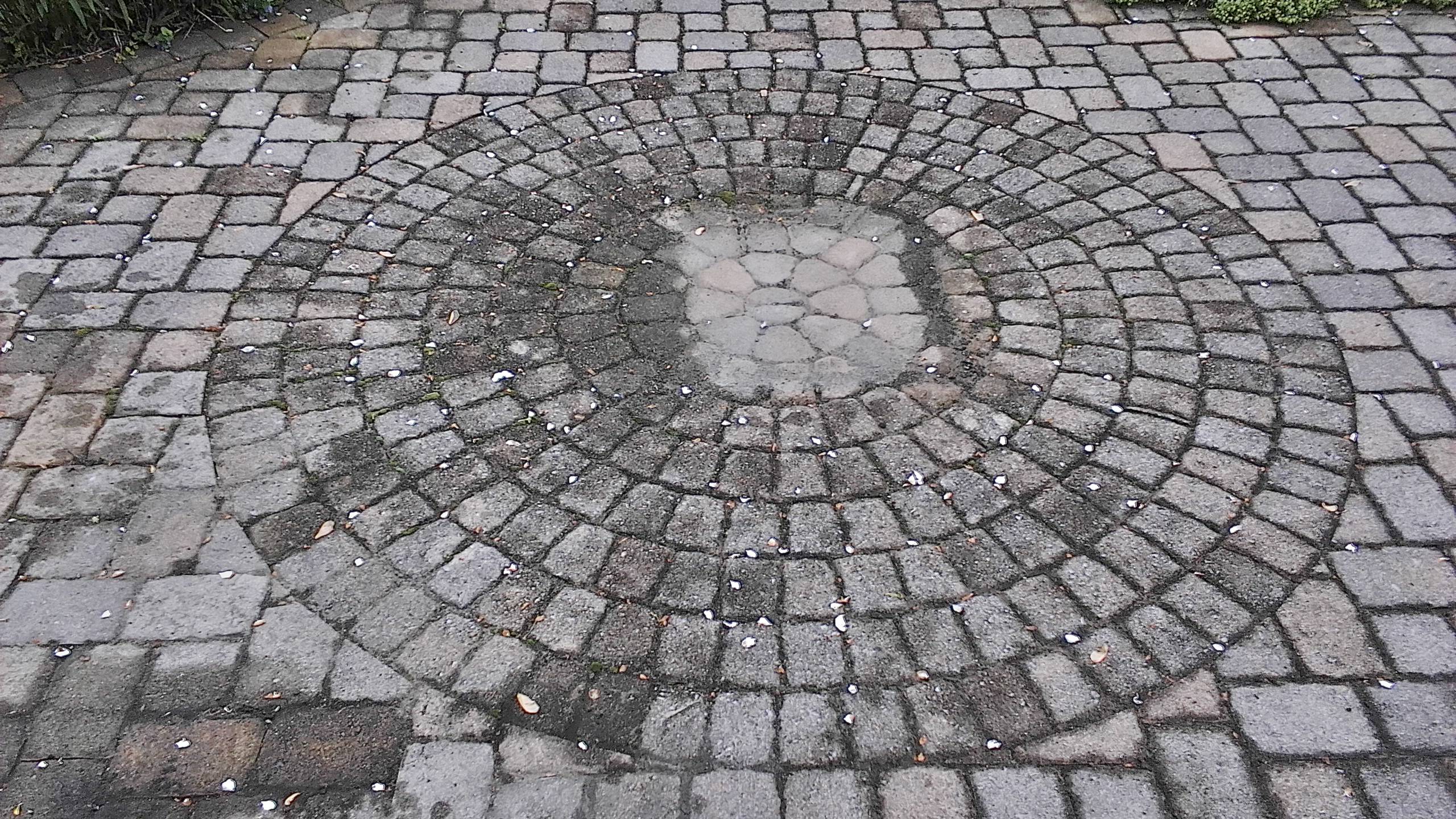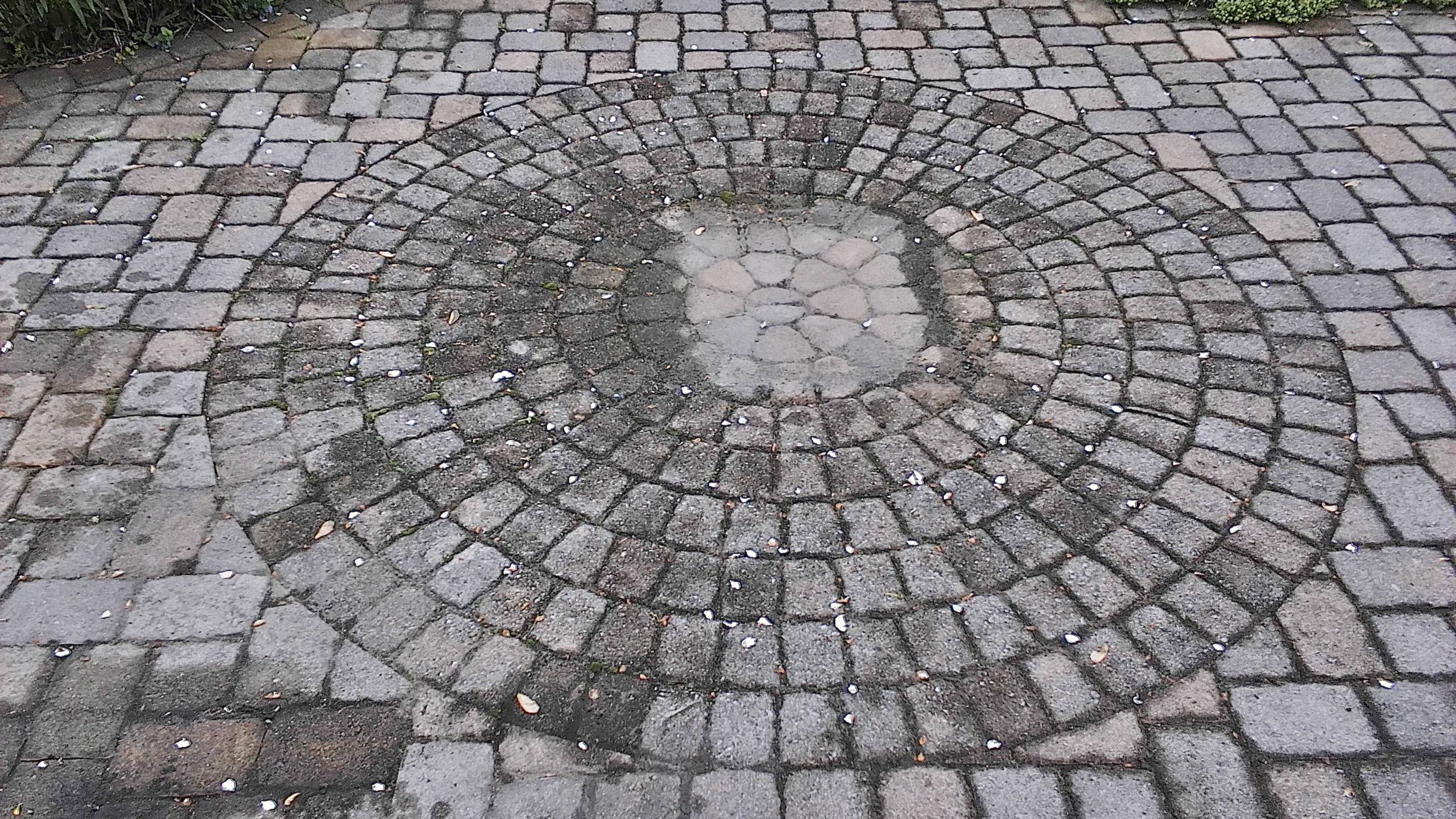 Before – Notice the Black Mold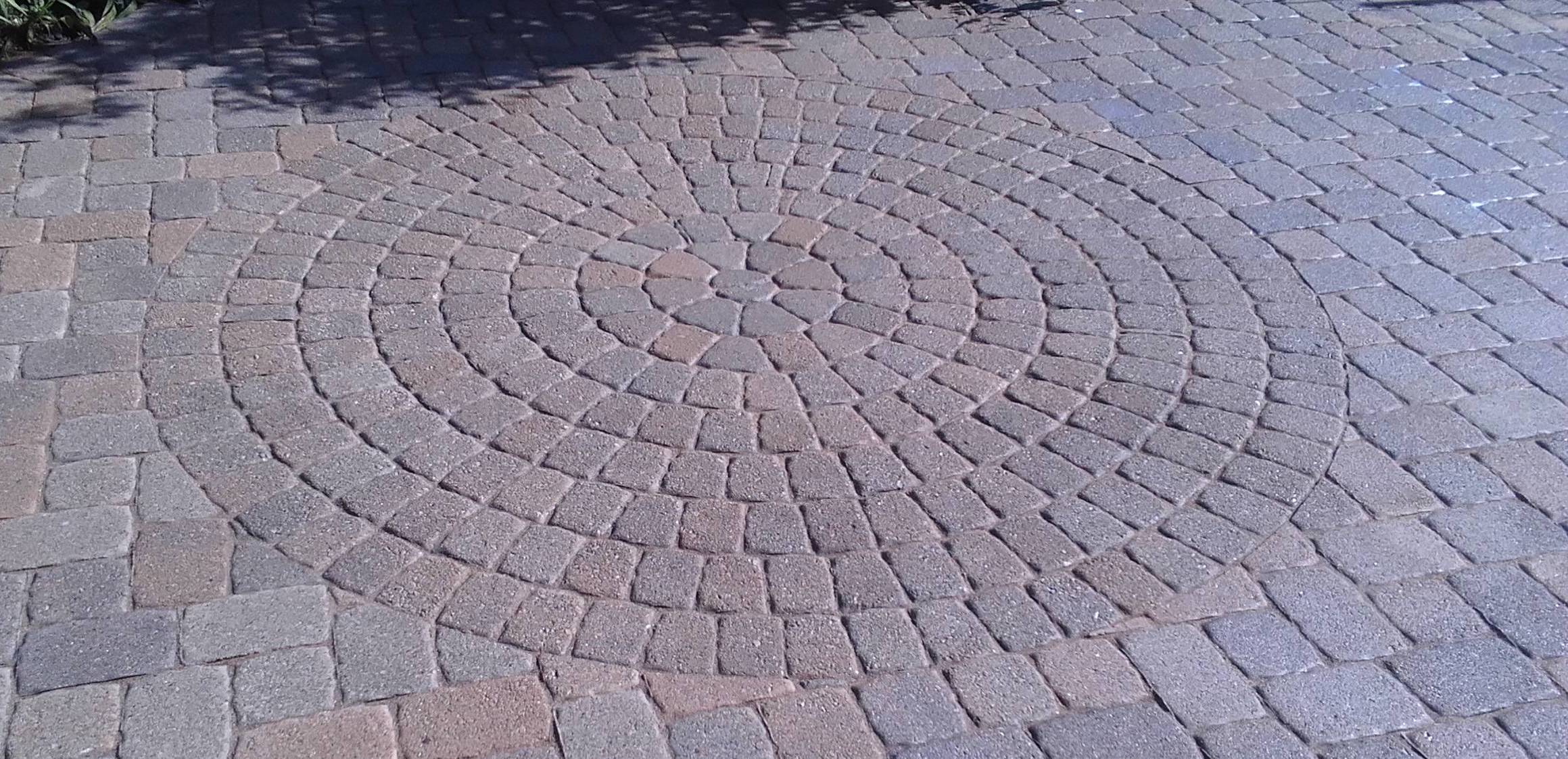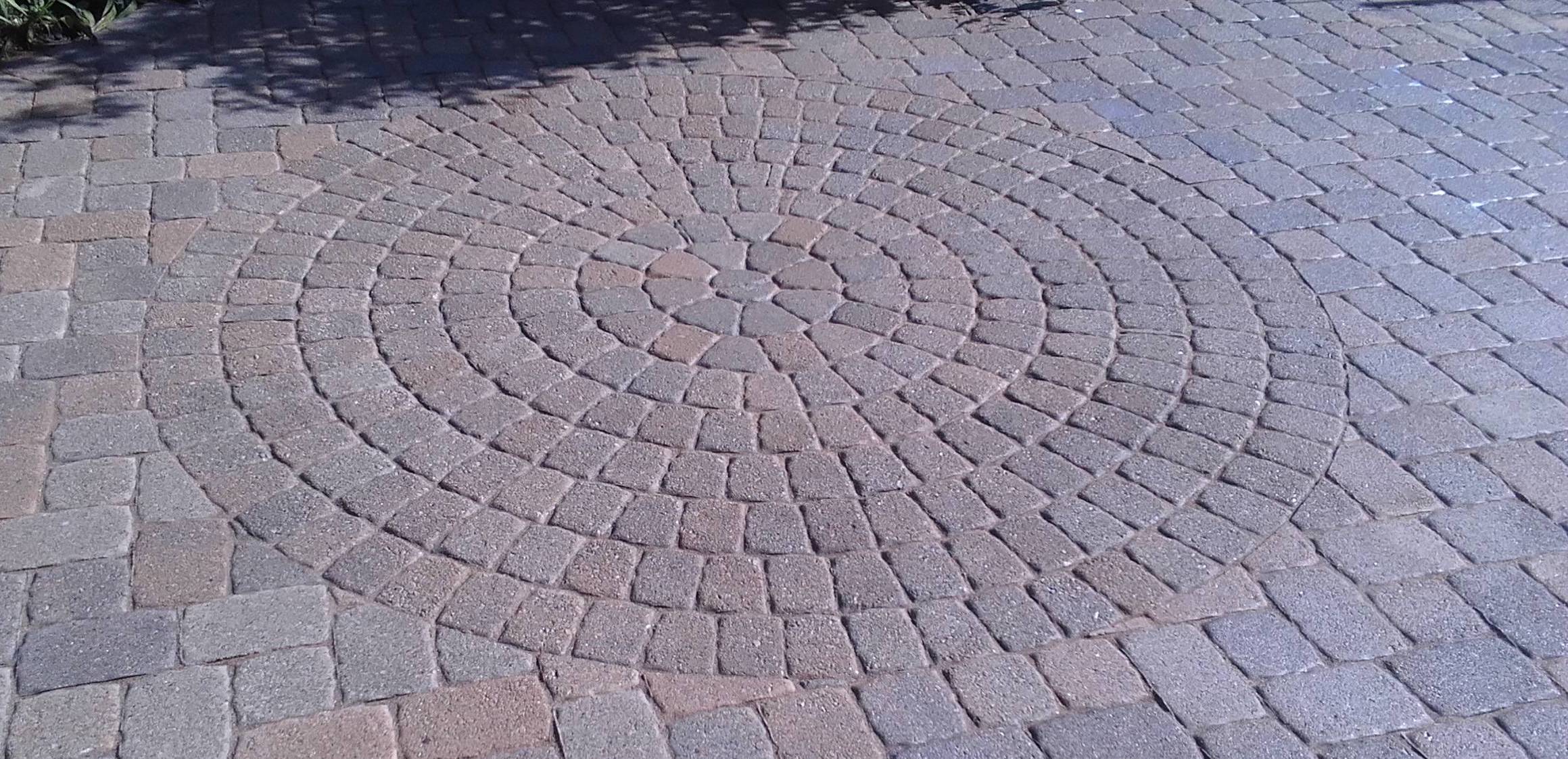 After Steam Clean, Re-Sand and Seal
Why seal my pavers or natural stone?
This is a great question, and one we feel isn't asked enough. Each type of exterior surface needs maintained and protected in its own unique way and for its own unique reasons. Too often, we see companies apply a one-size-fits all technique to all surfaces.
Concrete Pavers – Most paver driveways and paver pool decks that you'll see in Florida are made from concrete. When these pavers are made, the manufacturer mixes concrete with color pigments to achieve the color of the paver. Once these pavers are installed, they are exposed to the sun's UV rays, acid in rain, impact from rain, salt in the air and in salt water pools, traffic, etc. The sun's rays will deteriorate the color pigment in the paver causing them to slowly loose their color. The other elements cause a breakdown of the finer cement material on the surface of the paver exposing the rocks in the concrete mix. These rocks don't accept the color pigment during the manufacturing process, so they will be their natural color and not the color of the paver.
These are concrete pavers. Notice the line down the middle. The pavers on the right appear more worn than the pavers on the left. That's because the pavers on the left are under a roof overhang that blocks out the sun and rain. The pavers on the right get exposure to the sun and rain. Had these pavers been sealed, the pavers on the right would look like the pavers on the left.
Travertine, Limestone and Natural Stone Pavers – Unlike concrete pavers, travertine and limestone pavers are natural. No color pigment has been used to achieve their color, so you will never have to worry about color loss from natural stone. However, rain and salt in the air and in salt water pools will deteriorate travertine and limestone pavers over time. By sealing the travertine, this will help prevent this from happening. Properly protected, these types of materials will outlive the home. Unprotected when exposed to these elements, expect them to last as long as man made products.
Equally as important as sealing travertine, limestone and other natural stones is keeping the sand material locked in the joints or gaps between each stone. This is assuming these stones were sand set and not mortar set. On sand set natural stone installations, the sand must be installed in the joints for several reasons. A few are: 1. to create a cushion from one stone to the next to help minimize chipping, 2. Achieve friction between each stone so that the stones move up and down as one and not independent of each other causing unevenness, 3. The sand in the joints prevents heavy rains and cleaning from washing out and eroding the sand bed beneath the pavers. This is the leading cause to unevenness between one stone to the next. We see it often where a client has a travertine pool deck full of uneven stones. The thing they all have in common is, the joints are empty from frequent pressure washing or neglect. 4. When the joints are empty, they are prone to fill up with airborne organic material that blows across the stones and begins to collect. This organic material turns the gaps between your stones in to a mold and vegetation breading ground.
To combat all of this, our process on natural stone includes washing out the organic build up and sand from the joints and replacing it with our Polymeric Sand Grout which will lock itself in the joints preventing erosion of both the sand joint and the sand bed beneath the pavers.
The picture below will show you unevenness/settling in travertine pavers as well as deterioration caused by salt water in the pool.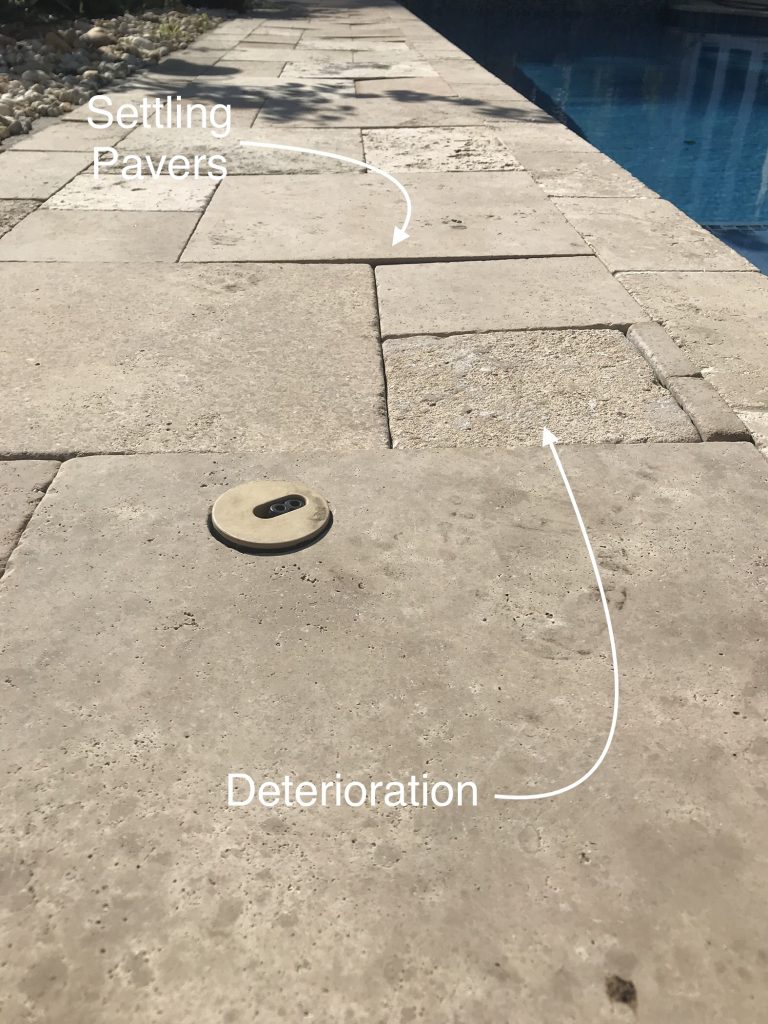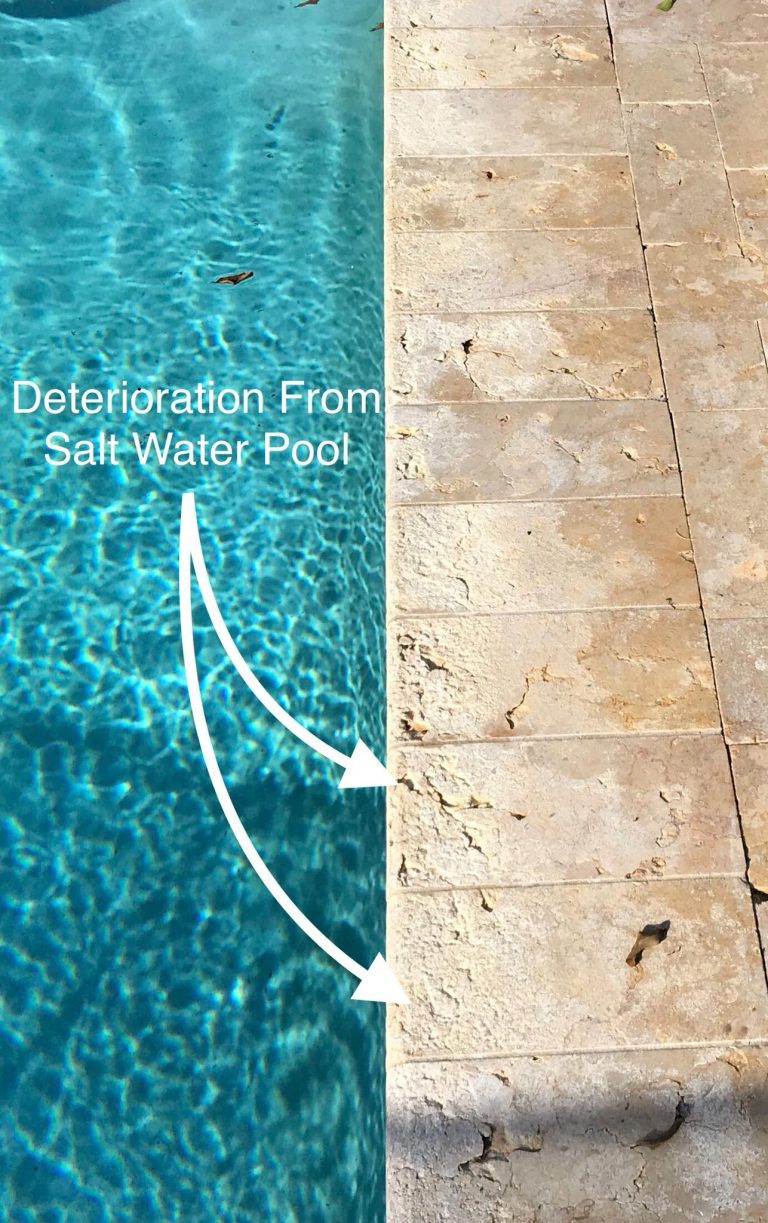 Chicago Brick –  Although Chicago Brick and Clay Pavers are man made, their color is achieved in a completely different manor. No pigments are used. Instead, when these brick are made the color is determined by the clay used to make the paver and by how hot and how long the pavers are cooked in the kiln. These types of pavers will not loose their colors. However, similar to natural stone, they can deteriorate from salt in the air and in salt water pools. Therefore, they need to be protected when installed when these elements exist. Brick are very porous, so they can often store a lot of moisture. This constant damp environment can lead to major black mold growth. Sealing pavers with a water repellant type sealer will stop the penetration of water in to the paver which will dramatically reduce these issues.
In addition to sealing, we strongly suggest keeping the joints of Chicago Brick filled with sand. Due to the inconsistency in size of the Chicago Brick, there are almost always lager gaps/joints between each stone than other types of pavers. These joints, if not filled with sand, allow the pavers to shift and move. Overtime, this can lead to major issues. To combat this, our process on Chicago Brick includes washing out the organic build up and sand from the joints and replacing it with our Polymeric Sand Grout. This polymeric sand will lock itself in the joints preventing erosion of both the sand joint and the sand bed beneath the pavers which will help prevent the pavers from shifting.
The picture below shows how bad mold will get on Chicago Brick. Notice in the after picture our Polymeric Sand Grout looks like the pavers had been grouted or mortared together.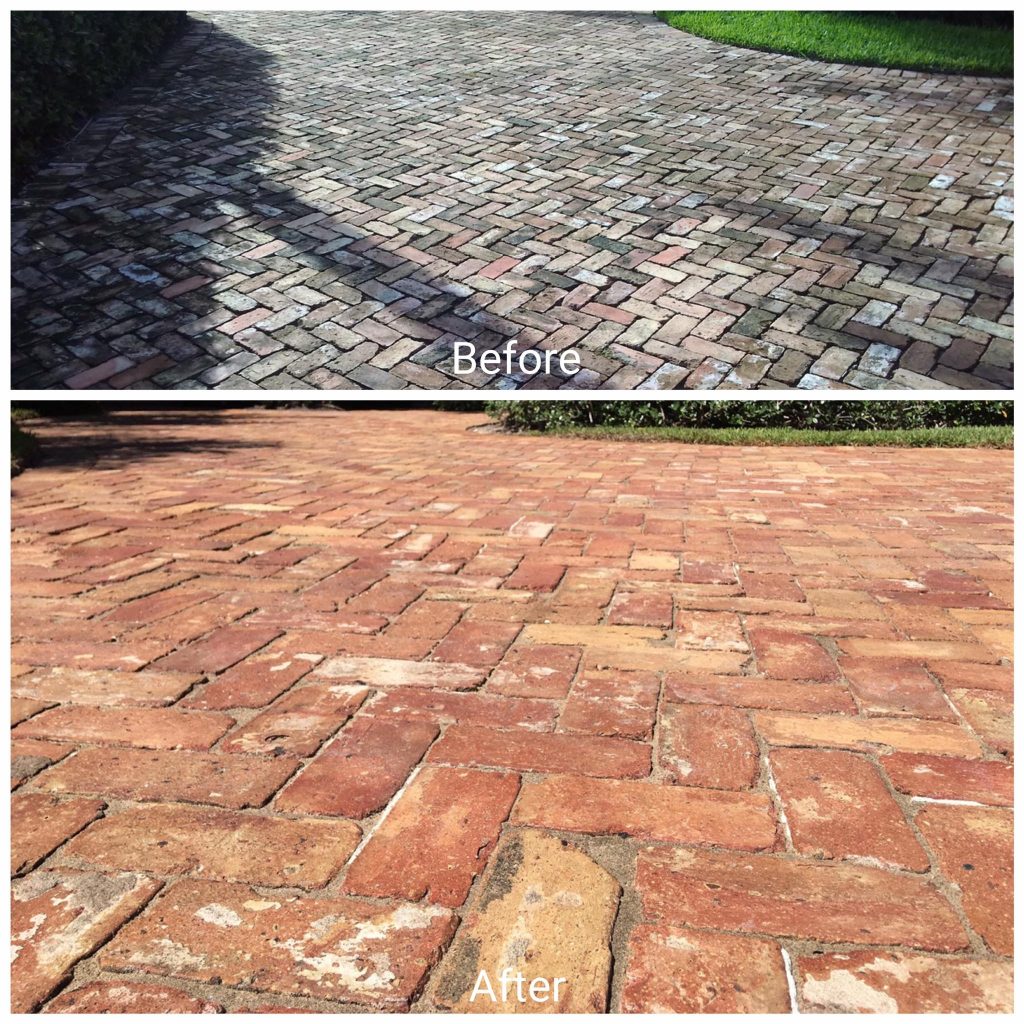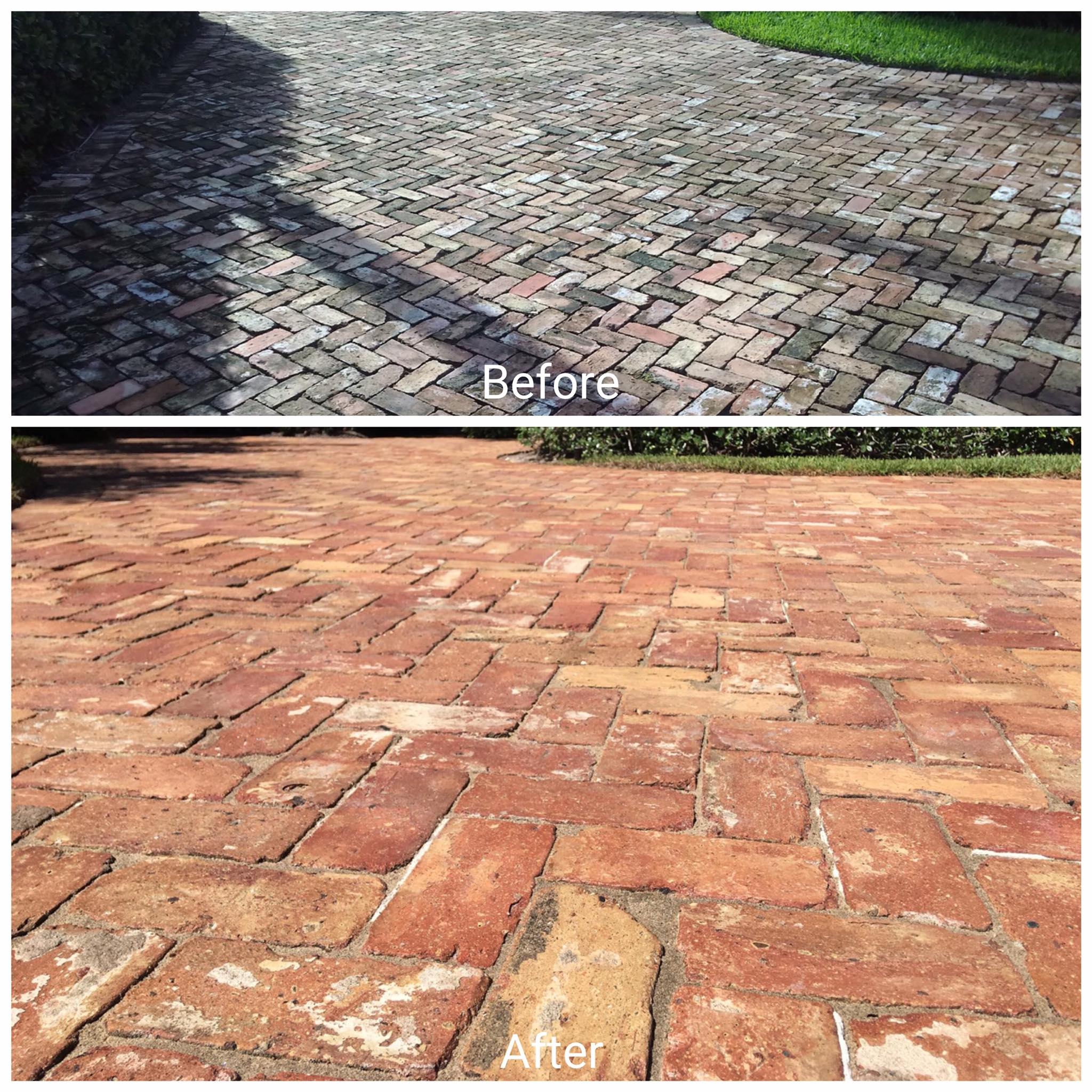 Ok, how much should I expect to spend?
You should expect to pay more for our process than say hiring your handyman or painter to roll on another coat of sealer. What we're doing is completely different altogether. Maintaining pavers and natural stone is nothing new. However, most homeowners and companies who offer 'Paver Sealing' do so because that's what the customer asked them to do. Somewhere along the way, the paver sealing component of paver maintenance was plucked from the maintenance process and is the only part of the process being done by many companies. So, when you receive a quote from one of these companies, that's all you're getting.
For our process which includes a deep Steam Cleaning of the pavers, cleaning out the joints, installing Polymeric Sand Grout back in to the joints and sealing using a very good sealer that won't have to be stripped when you're ready to re-coat you can expect to pay:
-Average size driveway: $1,000-$2,000 (if there are excessive repairs on your driveway, or if there is existing sealer that needs to be removed the range will increase)
-Large Driveway: The range of large driveways can be anywhere from $2,500 – $5,000+. It just depends on how large the driveway is. If you consider the above average driveway and think how many average driveways fit in your driveway, that will help you get an idea. Keep in mind, the more square feet we're doing, the cheaper the price will be per sq ft.
-Average Patio or Pool Deck: $1,000 – $2,000 (if there are excessive repairs, or if there is existing sealer that needs to be removed the range will increase)
-Repairs: We perform most repairs on a Time and Material basis. It's often unclear whats the cause of the issue until we've taken the pavers up. For this reason, we feel it's best to only charge you exactly how long it takes instead of estimating worse case scenario for every job. In the end, this is a win-win for everyone. We will however, estimate a range of how long we're expecting the repairs to take and the cost for both best case and worse case. So you're not completely in the dark about the cost.
Why Hire Us
Great question. In addition to being fanatics and obsessed with restoring the beauty of concrete and brick pavers, we're installers of pavers. In fact, at least one member of every Perfect Paver Co crew has been installing pavers for 10 years or before we switched them over to our restoration division. Our sister installation company, Two Brothers Brick Paving, specializes in very high-end residential outdoor living installations and large scale commercial paver installations. Both companies have the same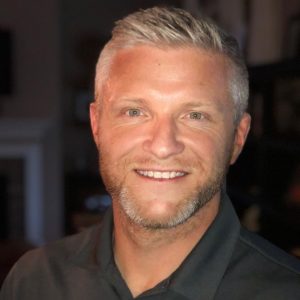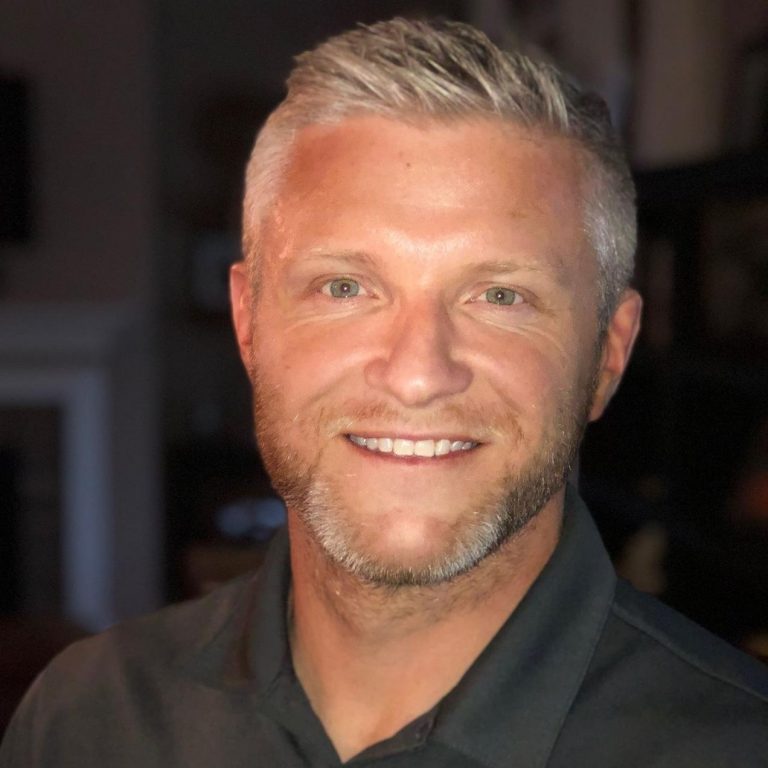 owner and he is actively involved in both companies on a day-to-day basis. What this means for you is, we know how to take great care of your pavers and we know what's best – this also comes in handy when repairs are necessary.
In addition to our highly skilled crews, we have the right equipment for the job. You'll be proud to have our clean, new, and professional looking trucks sitting in front of your house while we restore your pavers. All of our equipment is truck or trailer mounted and not the kind that you can simply transport in the back of a small pickup truck.
When we started Perfect Paver Co, we wanted to be the best. So we've always used the best equipment, sealers and people to help us get there.
If you have any questions or would like a Free Estimate, please simply click the button below and provide your contact information to us. We service all of Palm Beach, St Lucie and Martin Counties. In Broward County, contact this location: Perfect Paver Co of Broward County
Free Estimate
Perfect Paver Co of Palm Beach Gardens, FL
4440 PGA Boulevard, Suite 608
Palm Beach Gardens, FL 33410
United States
Phone: (561) 614-1277
Free Estimate

Residential Service Area:
Palm Beach Gardens, FL
Jupiter, FL
Jupiter Island, FL
Stuart, FL
West Palm Beach, FL
Vero Beach, FL
Hope Sound, FL
Commercial Service Area:
Entire State of Florida
Other Service Areas in FL:
Naples, FL
Ft Myers, FL
Bonita Springs, FL
Cape Coral, FL,
Sanibel Island, FL
Estero, FL
What We Can Steam + Seal
Bad Sealer Stripping / Removal
Paver Sealing and Cleaning
Brick Paver Restoration
Paver Maintenance
Concrete Pavers
null
Click here to read more reviews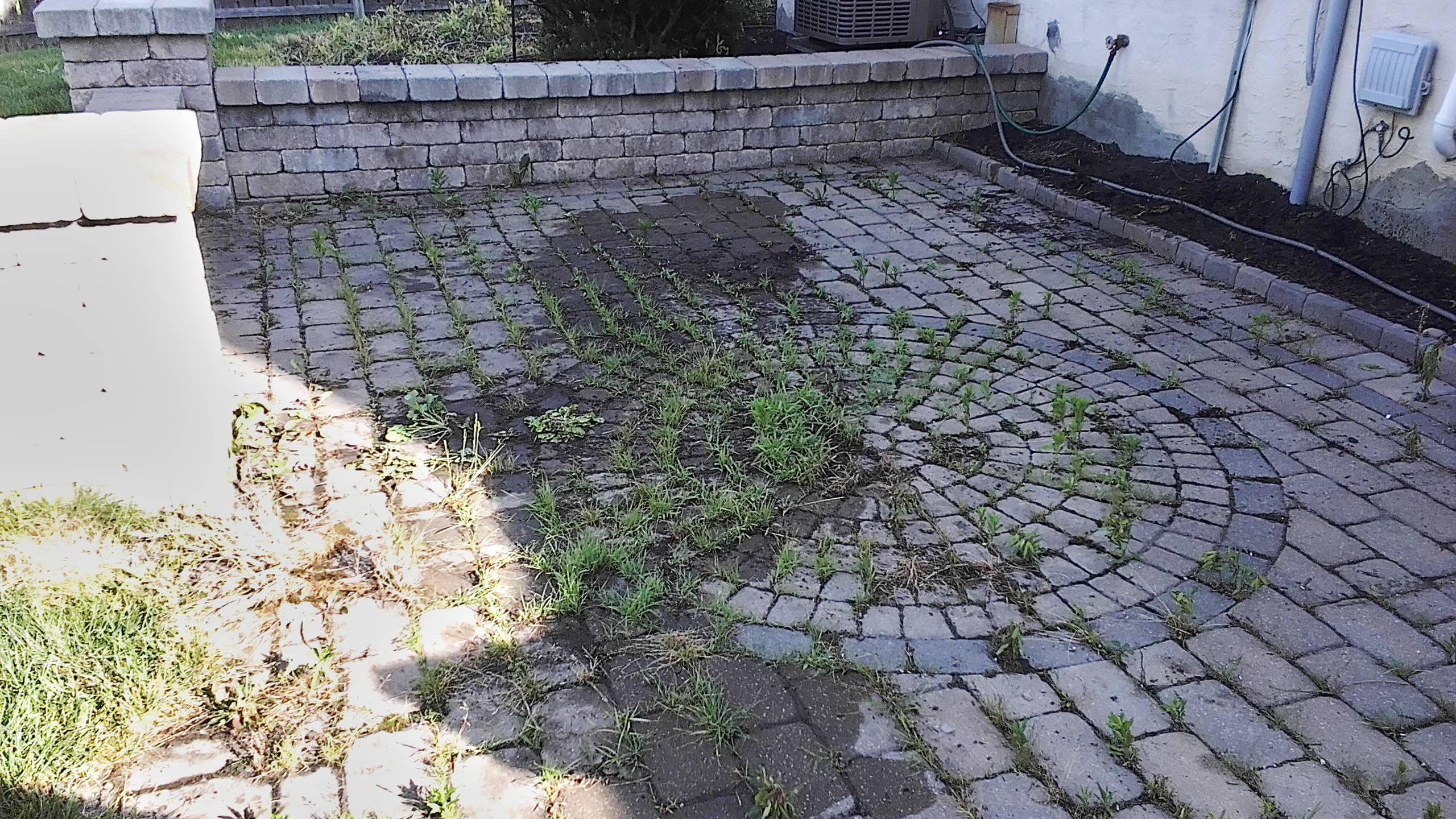 Before

After Paver Sealing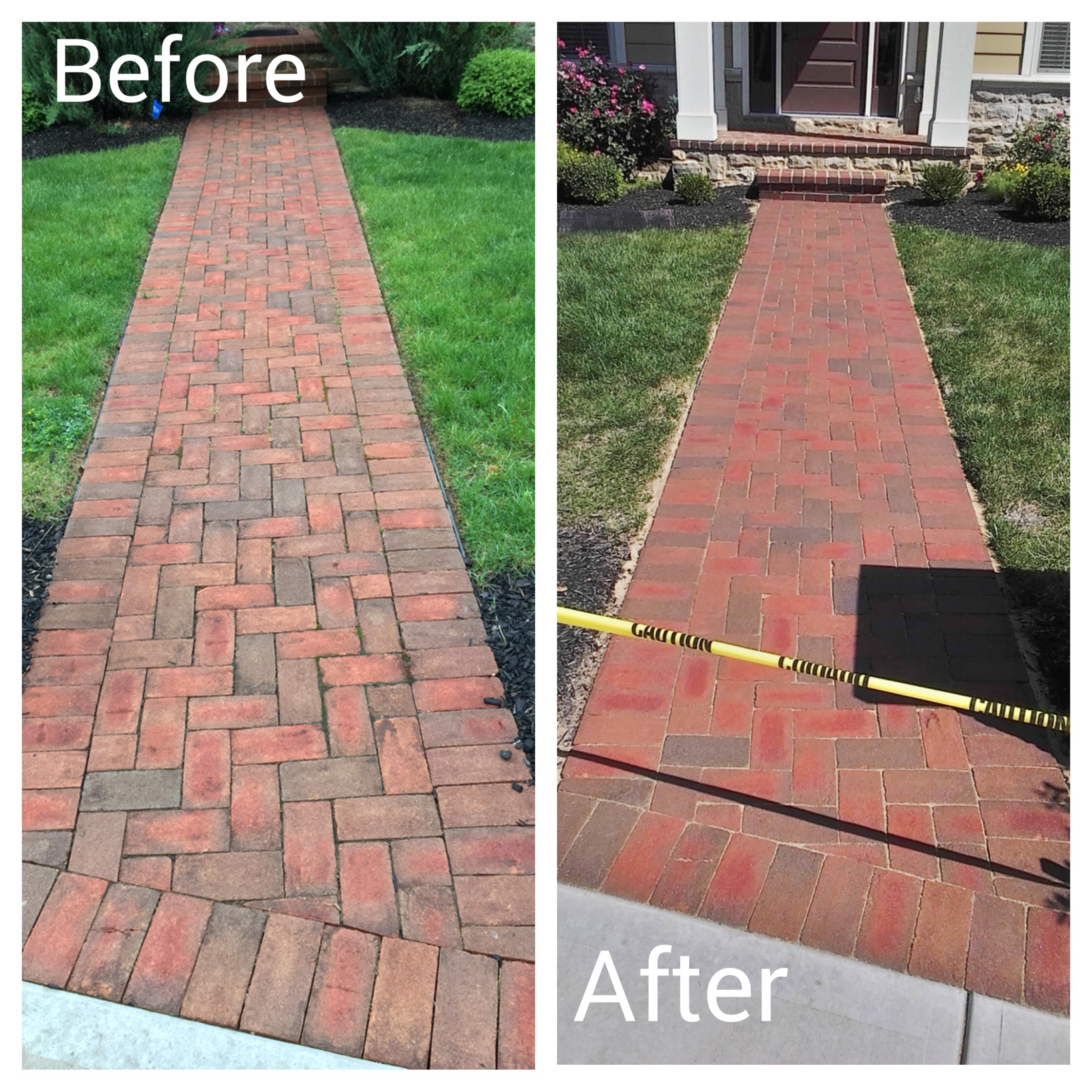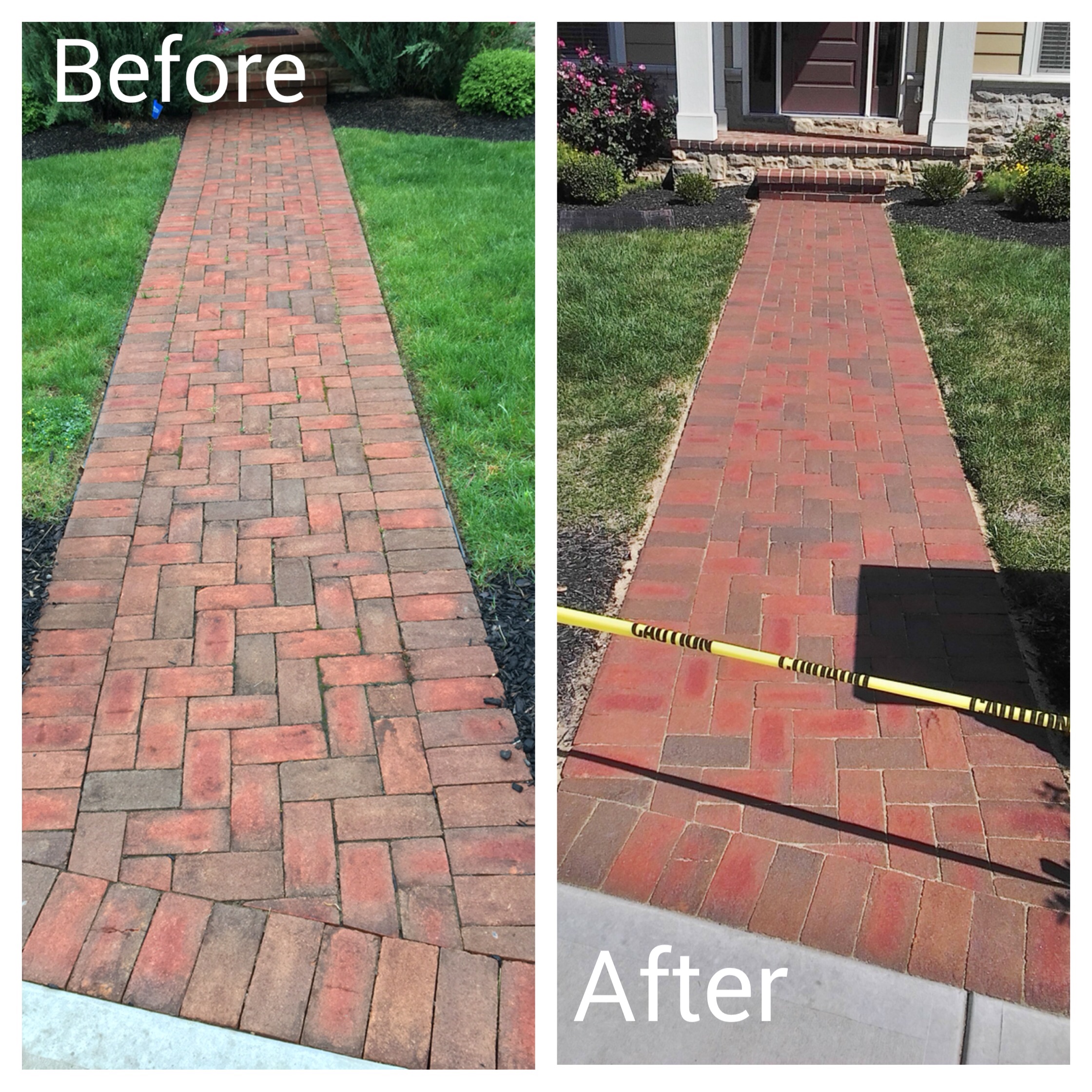 Brick Pavers Before/After Paver Sealing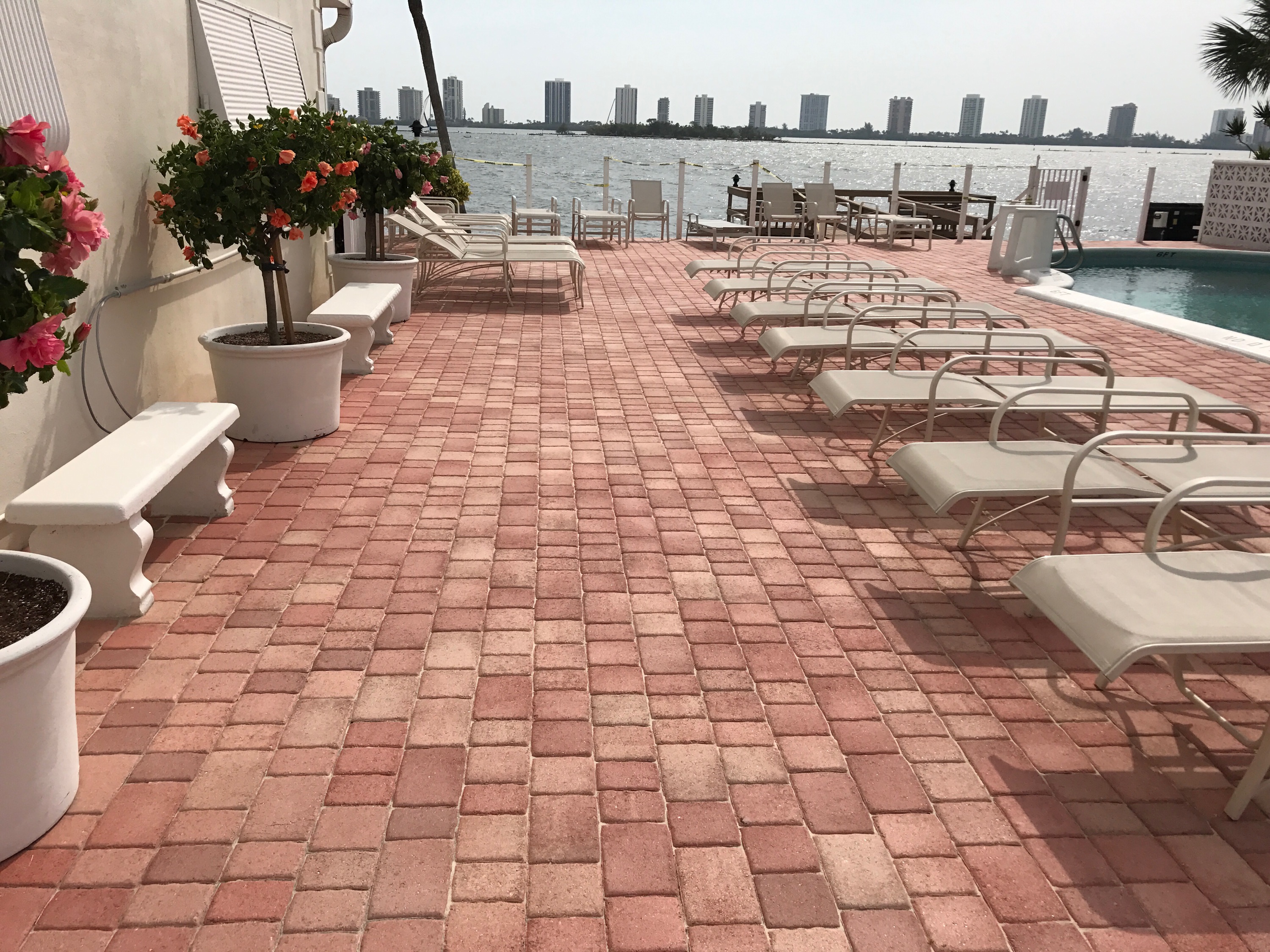 HOA Pool Decks, Entrances, Roads and Sidewalks