The Perfect Paver Co of Palm Beach specializes in paver repair, paver STEAM cleaning, and paver sealing for HOA communities and commercial properties all over Florida. We clean and seal travertine pavers, Chicago Brick pavers, natural stone pavers, concrete pavers, stamped concrete and regular concrete, marble and granite pavers and most other outdoor surfaces. We are extremely experienced in all aspects of paver maintenance on large scale projects like commercial pool decks, community walkways, entire community driveways, etc. Here are a few details we offer that make us the best choice for your HOA or Commercial Paver Sealing in Florida project.
Paver Sealing Equipment
Unlike most companies who offer paver cleaning and sealing as an add on service, The Perfect Paver Co of Palm Beach specializes in commercial paver sealing. So when we outfit our crews and trucks with equipment, its equipment that we've specifically designed to achieve the highest level of clean in pavers without damaging their sensitive surface. Our primary ingredient is steam. Our paver cleaning equipment heats water up to steam temperatures and then using controlled and confined pressure cleans the pavers.
We also have the ability to vacuum the water as we put it down so that the cleaning process is contained. This is especially valuable around pools and in enclosed areas.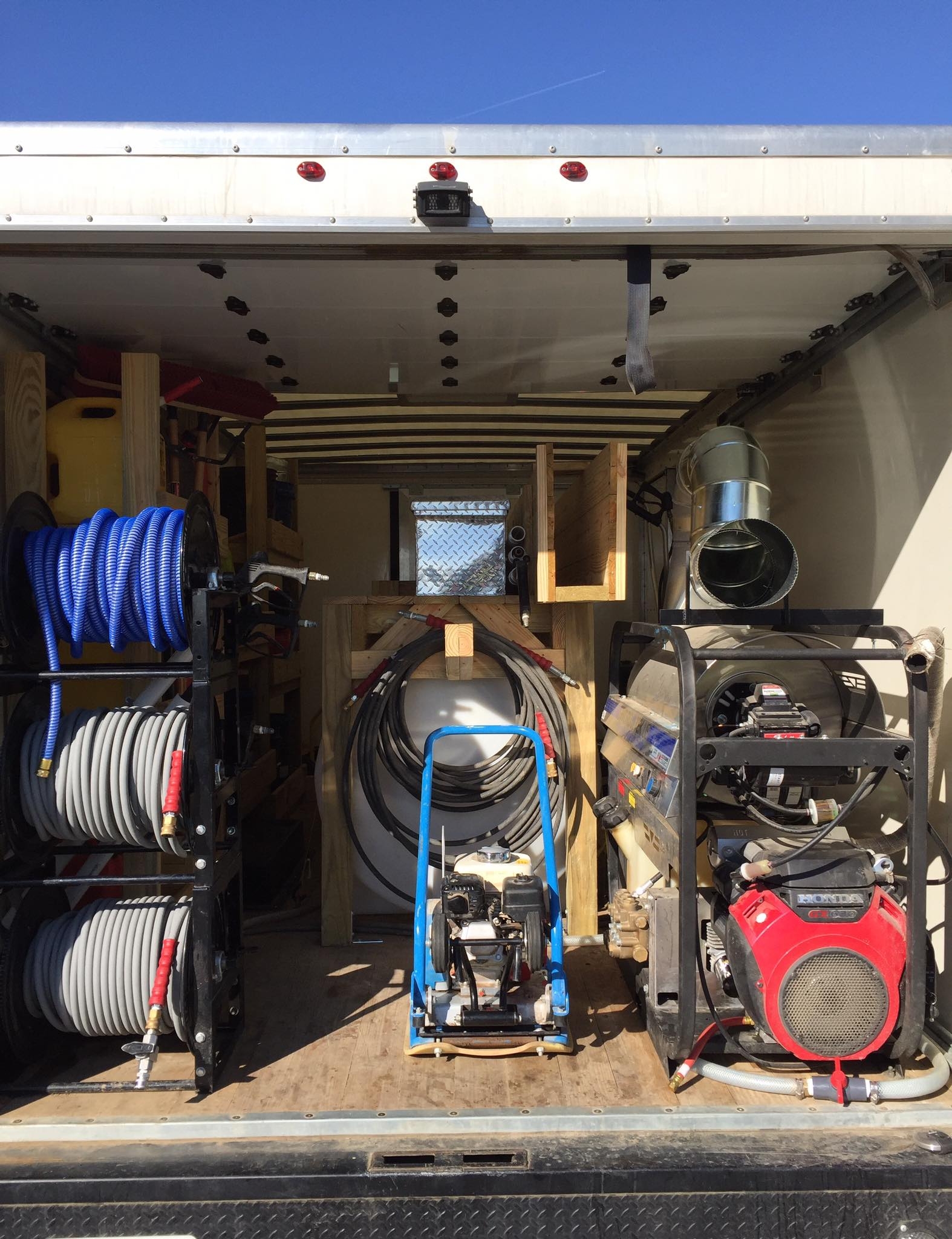 Our equipment is designed to clean large scale paver projects in Florida extremely fast. We know how important it is to you to keep your property up and running with as little down time as possible.
Our Paver Sealers
The paver sealers we use are proprietary, industrial grade sealers designed to achieve the highest level of protection on commercial applications. Our sealer is not available at local suppliers or big box stores. We have invested a tremendous amount of research and trial and error to end up with the sealers that we use.
Our sealers are designed to make maintenance of your pavers extremely easy. It has built in additives that help block stains from penetrating in to the pavers. It has a UV blocking additive that acts as a sunblock to your pavers preventing the colors in your pavers from fading away in the Florida sun. Likely the most valuable feature is the joint stabilization. We have a polymeric additive in our sealer that soaks down in to the sand joint hardening it keeping the sand in place during heavy Florida tropical rains and when the pavers are rinsed. This feature also makes it difficult for weeds and vegetation to grow in the paver joints.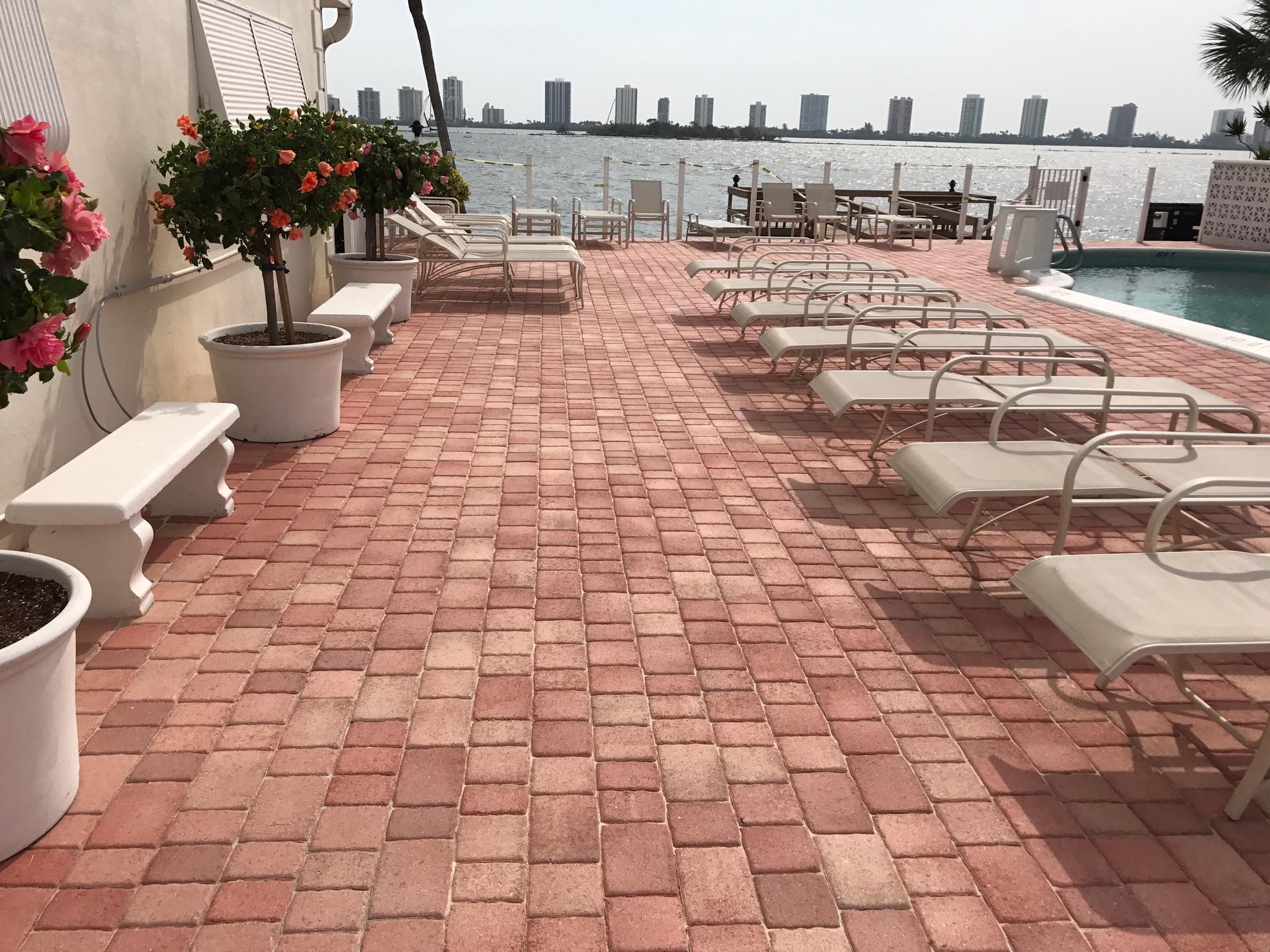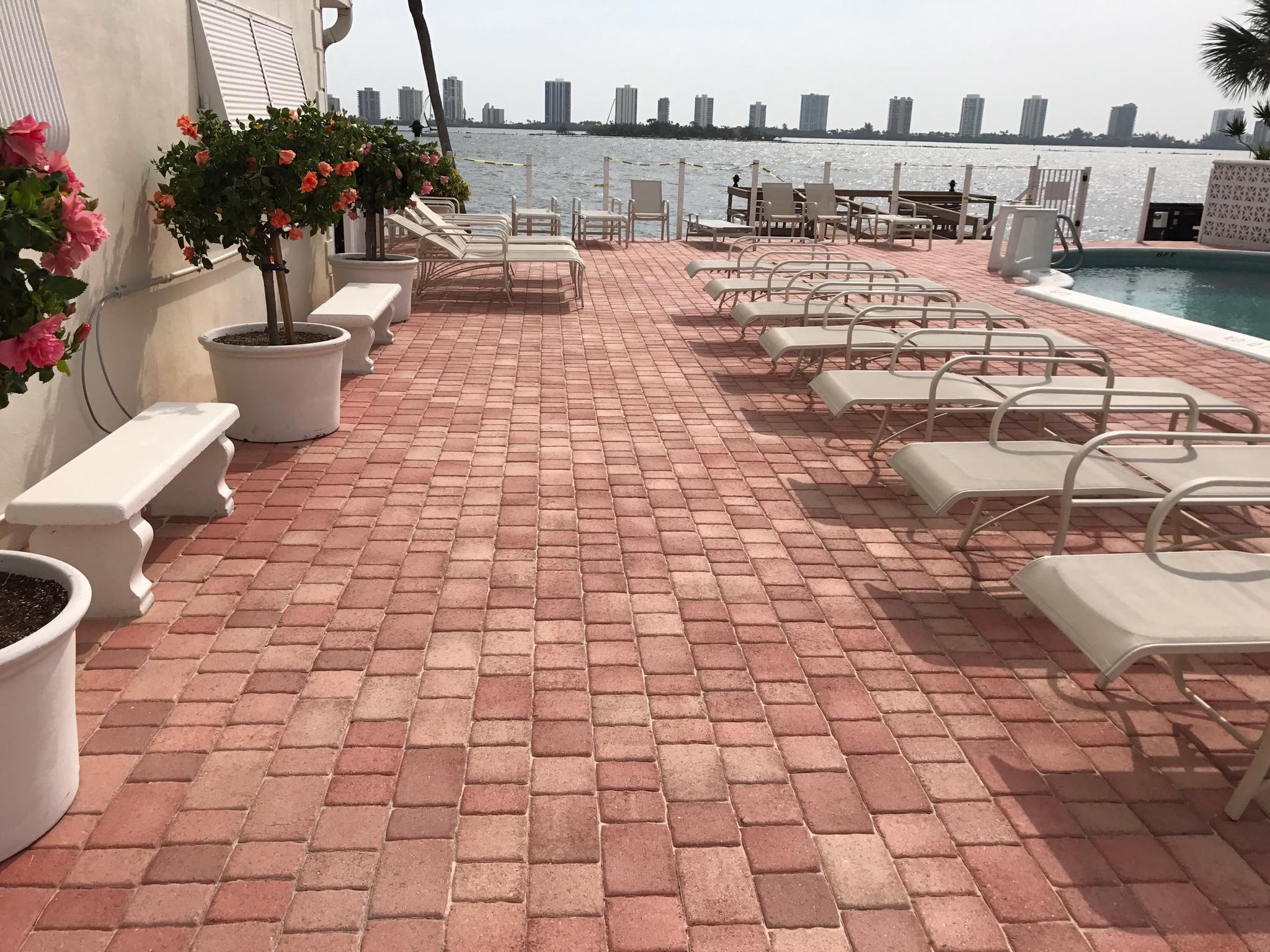 Our Pricing
Due to the efficiency of our equipment, the volume in which we purchase our materials and the experience level of our staff, we're able to be competitive with our pricing. The pricing you will see published on this website is geared towards our residential projects. Consider giving The Perfect Paver Co of Palm Beach an opportunity to estimate your project. You will experience in our first meeting just how knowledgeable and experienced we are.
The Difference
Here are some additional features that make us different from other paver sealing contractors in Florida. In addition to our steam cleaning equipment, quality of our sealers and our experienced and friendly staff we also take these steps to achieve the highest level of perfection with every one of our projects:
You'll notice the sand joint is visible near the chamfered edge of pavers we seal. Many contractors wash in the sand making it very difficult to control the sand level. So these contractors will keep the sand low in the joint so that it's not visible. We groom the sand in to the joints giving your pavers a grout like appearance. 
We run a vibratory plate compactor over pavers prior to sealing. This compacting of the pavers will vibrate the sand down tightly in to the joint. This helps keep the pavers interlocked and aides in preventing shifting of the pavers. This compacting will also improve minor highs and lows in pavers.
Our proprietary sealers will never turn white or hazy. Based on their design, it's impossible. Most other sealers will detach/delaminate from the pavers over time requiring the sealer to be stripped prior to re-sealing. This stripping process is extremely costly. Our sealers are designed to naturally breakdown over time making re-sealing easy and not requiring stripping.
We're trusted by some of the biggest companies and communities


Paver Repair
In addition to cleaning and sealing pavers, our Florida crews are extremely experienced with paver repair.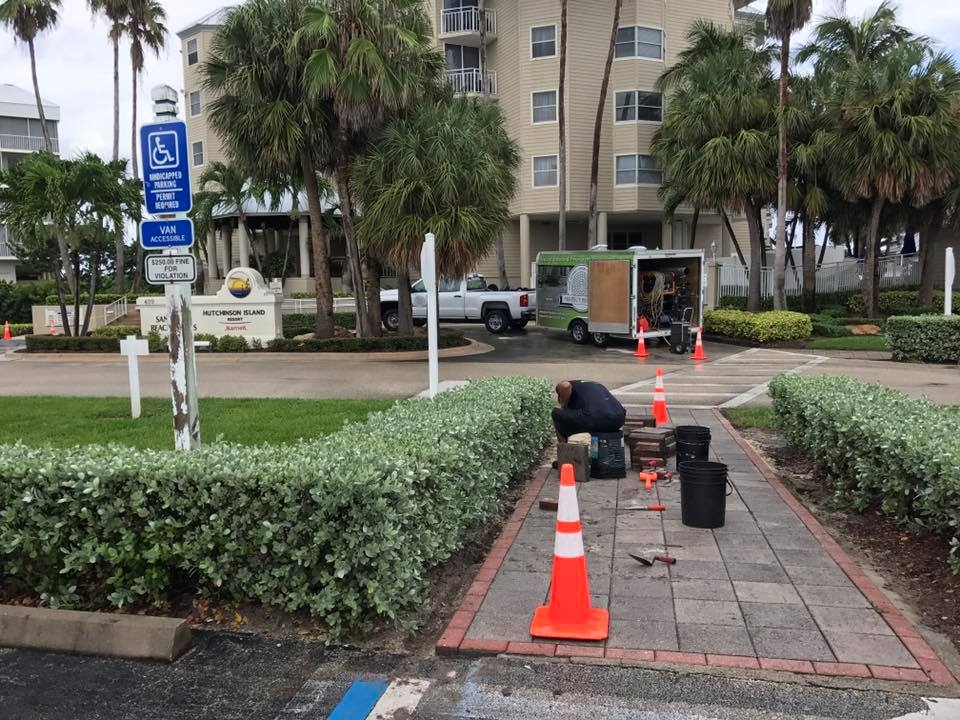 Service Area
The Perfect Paver Co of Palm Beach services most of Florida for large commercial paver cleaning and sealing projects. We have crews available to quickly perform projects located in:
West Palm Beach, FL          Fort Lauderdale, FL          Miami, FL          Key West, FL          Ft Meyers, FL
Naples, FL                             Tampa, FL                           Sarasota, FL      Orlando, FL            Jacksonville, FL
Daytona Beach, FL              Entire State of Florida
If your project is a large scale commercial, HOA, hotel or any other large scale paver cleaning and sealing project, please contact Mark Rhodus directly at mark@perfectpaverco.com or call (561) 614-1277