You may know us for our work restoring and protecting pavers, but did you know that we also seal concrete surfaces? Ohio's freeze/thaw climate can damage concrete surfaces. Fall is the perfect time to have your concrete driveway or patio safely cleaned and protected before winter hits. By sealing your concrete, it helps protect it against the following:
Why you should seal concrete surfaces:
Freeze/Thaw Damage: Concrete is a porous surface. During the winter months, water penetrates concrete and when it freezes it expands. When this happens near the surface, pitting can occur. Pitting, also known as spalling, is when small holes, or "pits," show up on a driveway's surface and make it look uneven and worn.  In addition to pitting, freeze thaw can cause cracking and other damage to concrete surfaces.
Our concrete sealing process keeps water out of your concrete minimizing the affects of freeze/thaw.
Road Salt Damage:  By now, most people know to only use deicing salt the is safe for concrete, but what happens when road salt finds its way on to your concrete driveway? This happens from salt truck overspray and your tires carrying salt from the road on to your driveway. Road salt is extremely harsh on concrete surfaces. The calcium hydroxide present in concrete reacts with the calcium chloride in salt, creating calcium oxychloride (CAOXY) in salt, thus wreaking havoc and causing deterioration of the surface of concrete. There's no fixing this. 
 Our concrete sealing process is designed to help protect your concrete from salt damage.
Prevent Mold and Mildew: Is your driveway turning black? Chances are, this is mold and/or mildew growing on your concrete. The combination of moisture and organic deposits on concrete create the perfect conditions for mold and mildew to thrive. This mold and mildew is brought in to your home on your and your visitor's shoes.
 Our concrete sealing process is designed to minimize waters ability to penetrate concrete making it more difficult for mold and mildew to germinate and survive. Our process includes steam washing the concrete which kills mold spores unlike cold water pressure washing which only removes the mold leaf and not the spore.
Keeps Concrete Cleaner: When contaminates and water can't penetrate concrete, the surface stays cleaner.
We clean and seal and also stain all types of concrete including stamped concrete and exposed aggregate concrete. 
Our Process: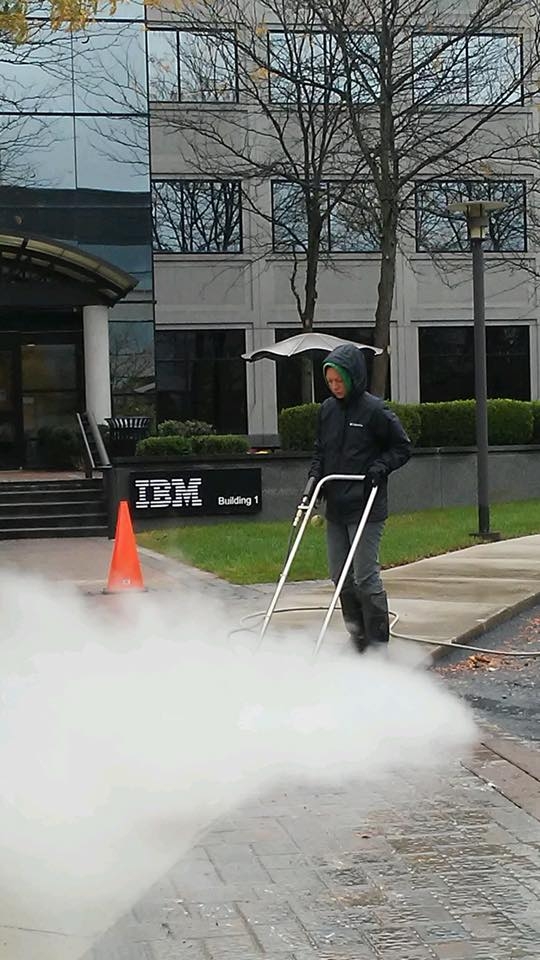 Step 1. Preparation is key. In order to achieve a high level of clean, we clean concrete surfaces with steamy hot water. The extremely hot water is very effective at killing off mold, mildew and algae from the surface and pores of your concrete.
Most companies use cold water pressure washing to prepare the concrete surface before sealing. Cold water is not effective at killing mold and mildew. It simply removes the visible leaf growing from the microscopic spore, leaving the spore still alive to grow back new leaf beneath the sealer.
During the preparation process, we'll be utilizing the high heat to help open up the pores of the concrete so that we achieve a deep penetration of sealer when applied.
Step 2: After years of trial and error and research, we've selected the perfect sealer to protect concrete from Ohio's harsh winters. We apply sealer to the concrete surface in a way the floods the surface and penetrates deep in to the concrete for the best protection.
Request an estimate here to have your concrete surface (decorative concrete too) professionally cleaned and protected by The Perfect Paver Co: www.perfectpaverco.com/free-estimate
Our Service area includes Columbus, Cincinnati, Dayton, Powell, Galena, Dublin, Upper Arlington, New Albany, Reynoldsburg, Blacklick, Grove City, Westerville, Indian Hill, Loveland, Springboro, Blue Ash, Mason, West Chester, Centerville, Springboro and surrounding cities.