Travertine Paver Sealing in Palm Beach, Miami-Dade, Broward, Martin, St Lucie, Lee, Collier, Sarasota and Manatee Counties, FL
Imagine your travertine paver pool deck or driveway looking better than the day it was installed. That's exactly what we do; we specialize in restoring travertine to look it's best. The best part is, once we finish, we prescribe an easy to follow maintenance plan that you can do to keep it looking this way. If you're disappointed with the way your travertine pavers look, HIRE US.
Don't get tricked in to cold water pressure washing your travertine pavers and sealing them with paver sealer. Our STEAM cleaning process will thoroughly clean your travertine pavers killing unwanted mold on contact. Our specialized travertine paver sealer will enhance and protect your travertine pavers and tiles without making them slippery, and our joint hardening sand will keep the sand and the tiles locked in to place.
LISTEN TO ONE OF OUR CUSTOMERS TALKING ABOUT THE WORK WE DID ON THEIR TRAVERTINE:
[sc_embed_player autoplay=true fileurl="http://www.perfectpaverco.com/wp-content/uploads/2018/10/Howard-Tames-Testimonial-online-audio-converter.com_.mp3″]

Why Seal and Sand Travertine Pavers
Travertine, Limestone and Natural Stone Pavers – Unlike concrete pavers, travertine and limestone pavers are natural. No color pigment has been used to achieve their color, so you will never have to worry about color loss from natural stone. However, rain and salt in the air and in salt water pools will deteriorate travertine and limestone pavers over time. By sealing the travertine, this will help prevent this from happening. Properly protected, these types of materials will outlive the home. Unprotected when exposed to these elements, expect them to last as long as man made products.
Equally as important as sealing travertine, limestone and other natural stones is keeping the sand material locked in the joints or gaps between each stone. This is assuming these stones were sand set and not mortar set. On sand set natural stone installations, the sand must be installed in the joints for several reasons. A few are: 1. to create a cushion from one stone to the next to help minimize chipping, 2. Achieve friction between each stone so that the stones move up and down as one and not independent of each other causing unevenness, 3. The sand in the joints prevents heavy rains and cleaning from washing out and eroding the sand bed beneath the pavers. This is the leading cause to unevenness between one stone to the next. We see it often where a client has a travertine pool deck full of uneven stones. The thing they all have in common is, the joints are empty from frequent pressure washing or neglect. 4. When the joints are empty, they are prone to fill up with airborne organic material that blows across the stones and begins to collect. This organic material turns the gaps between your stones in to a mold and vegetation breading ground.
To combat all of this, our process on natural stone includes carefully washing out the organic build up and sand from the joints and replacing it with our Polymeric Sand Grout which will lock itself in the joints preventing erosion of both the sand joint and the sand bed beneath the pavers.
The pictures below will show you unevenness/settling in travertine pavers as well as deterioration caused by salt water in the pool.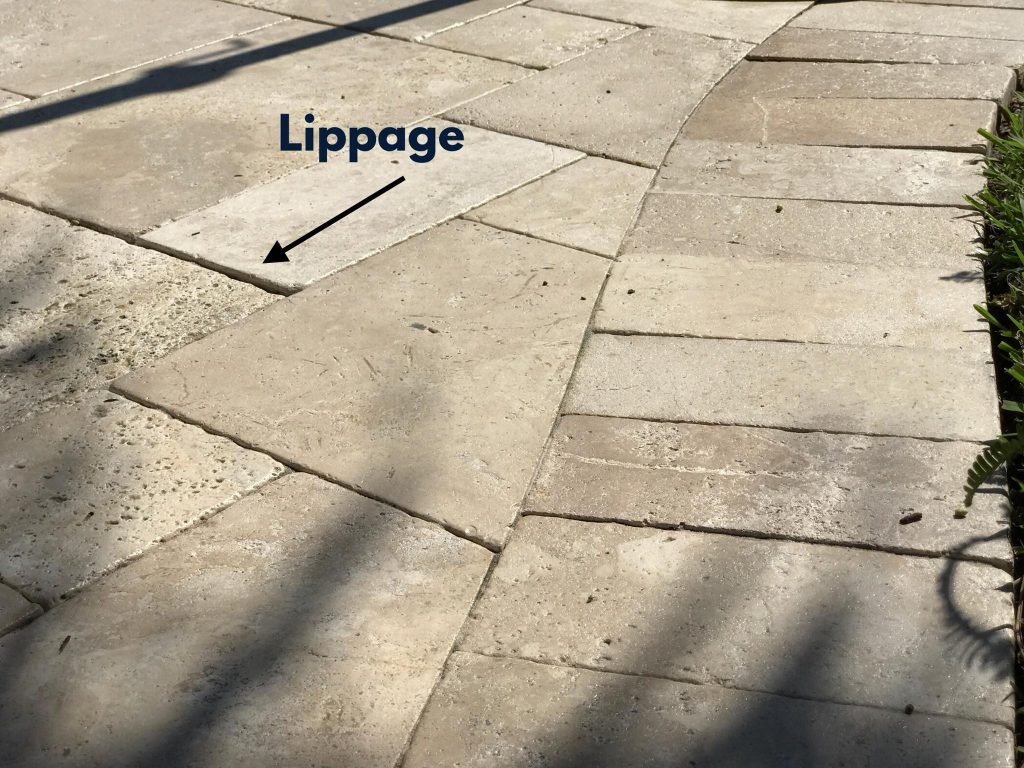 Prevent Deterioration From Salt Water Pools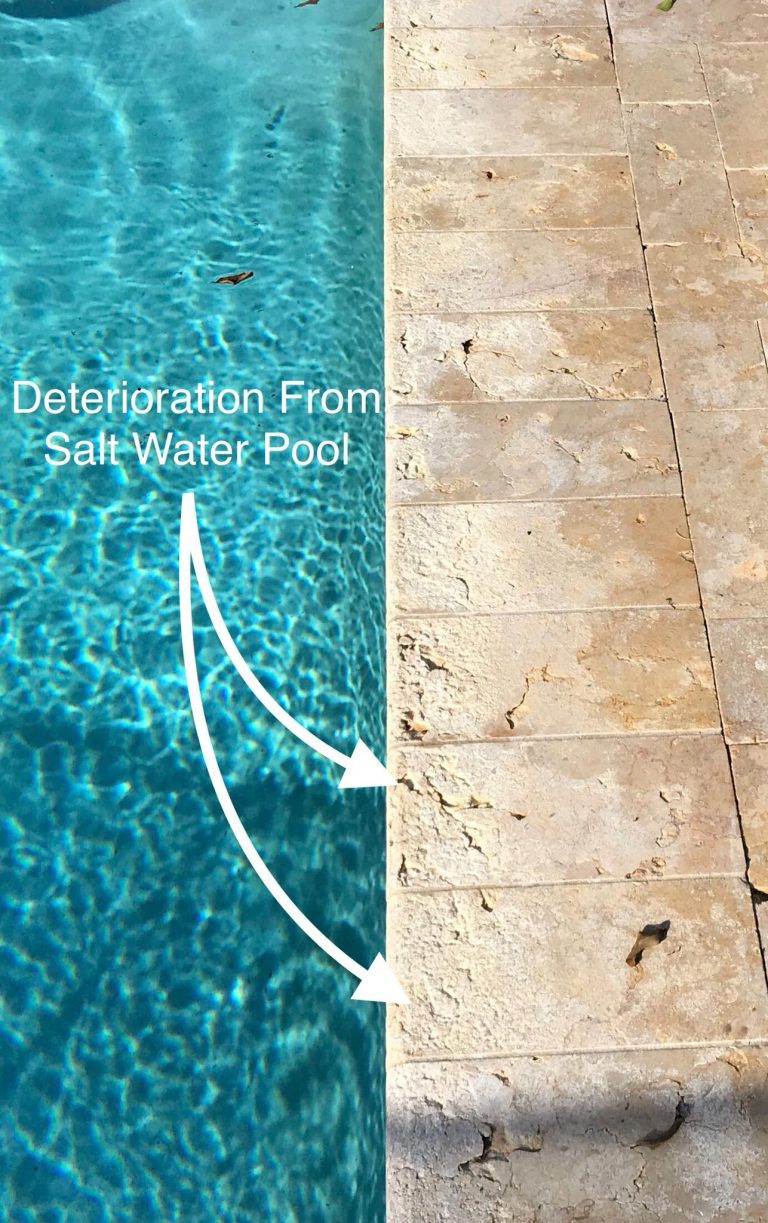 Salt in the air (especially close to the ocean) and especially salt in salt water pools can cause travertine pavers to deteriorate. It is very important to seal your travertine pavers to prevent this deterioration from happening. However, not just any sealer will work. It must be a sealer designed to protect against salt damage. Both of our travertine sealers (natural and enhanced) are designed to prevent salt damage.
Help Prevent Mold and Bacteria Growth
The pores inside and on the surface of travertine can be the perfect breeding ground for mold and unwanted bacteria to grow. Simply cold water pressure washing the surface of the paver can appear to remove the mold, however, this process is simply removing the leaf leaving the spore still intact. In fact, cold water pressure washing mold can be similar to cutting grass. When you cut grass, it grows back fuller and stronger. In addition, each time you pressure wash the pavers you're running the risk of removing the sand between the pavers and also undermining the sand setting bed beneath the pavers, which can be costly to repair. Our STEAM cleaning process of cleaning travertine pavers kills mold and bacteria on contact.
To help minimize the growth of this mold and bacteria, we seal the pavers using a specialized sealer designed for natural stone. This sealer soaks down in to the pores of the paver filling the void so that its harder for mold to grow. The sealer will also keep the surface cleaner by allowing dirt and debris to easily rinse off the surface during rains similar to a waxed car. And, as a bonus, the sealer will enhance the colors in your travertine a bit making it look even better than when it was installed.
It's important to not seal travertine using traditional concrete or paver sealers. These sealers are thick and travertine is very dense. This means the sealer will simply lie on the surface creating a very, very slippery surface. In addition, the sealer to travertine bond will break down quickly causing your sealer to turn white. Then the sealer will need to be stripped, which can be very costly.
This is why we've developed a special sealing process and product specifically for sealing travertine. We use a "Wax On, Wax Off" approach to minimize the sealer buildup on the surface of the paver (sealer buildup on top of the paver is what makes them slippery after sealing). Our sealer is an impregnating sealer that soaks down in to the travertine and protects from within. It is also microporous, meaning it allows moisture and water to transfer in and out of the stone. This is a natural process that you do not want to prevent. Florida has a high water table level and water is always trying to escape the surface, don't trap it in.
Our process allows you to do the necessary maintenance on travertine which is what helps keep the mold away. We will educate you on the necessary maintenance that you need to do to keep your outdoor travertine looking great.
Will Sealing Travertine Pavers Make Them Slippery?
The main reason many people have chosen not to seal travertine pavers is due to the threat of increased slipperiness. This is a valid concern, however, our travertine sealers are penetrating sealers designed for the use on travertine pavers and will not make travertine pavers as slippery as traditional paver sealers. If slippery is a concern, we offer Natural Look sealer which is not slippery at all. We offer two travertine options, Natural and Enhanced. We will show you a sample of both options so that you can make an informed decision about which is best for you.
Do You Repair Travertine Pavers?
Yes! It's very common for a travertine pool deck or travertine driveway to need repairs completed prior to sanding and sealing. These repairs often include fixing uneven/un-level pavers, cracked pavers, settled and shifting pavers and many other repairs. We can address these concerns and repair them correctly.
Hire Us!
Hire The Perfect Paver Co
It's very easy – Just takes 3 easy steps:
Step 1. Call us (Phone numbers listed at the top of this page) or share your contact info with us here so that we can contact you to discuss your project and schedule an estimate.
Step 2. We'll visit your home, walk the project with you and discuss what you can expect from our process.
Step 3. We will provide an on-site estimate and discuss scheduling options so that we can get your travertine looking great again as quickly as possible.
That's it, the next step is for our crew to arrive to begin your project. Our process on travertine takes 2 days. Sometimes, we need to let the travertine dry out for a day after we clean before coming back to seal and install the polymeric sand.
So, call us today (Phone numbers at top of this page) Palm Beach, Miami-Dade, Broward, Martin, St Lucie, Lee, Collier, Sarasota, Charlotte and Manatee Counties
We truly are the experts when it comes to travertine paver maintenance. In fact, we're also the experts at installing travertine pavers. Our sister company has installed some of the most high-end travertine paver installations in the Midwest. Here are a few pictures. So we really understand travertine pavers.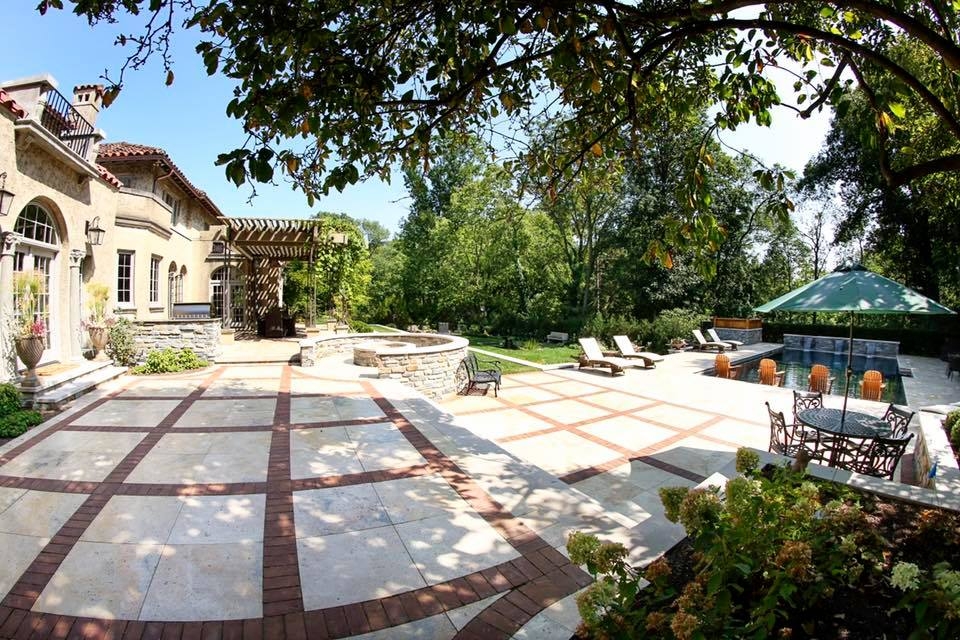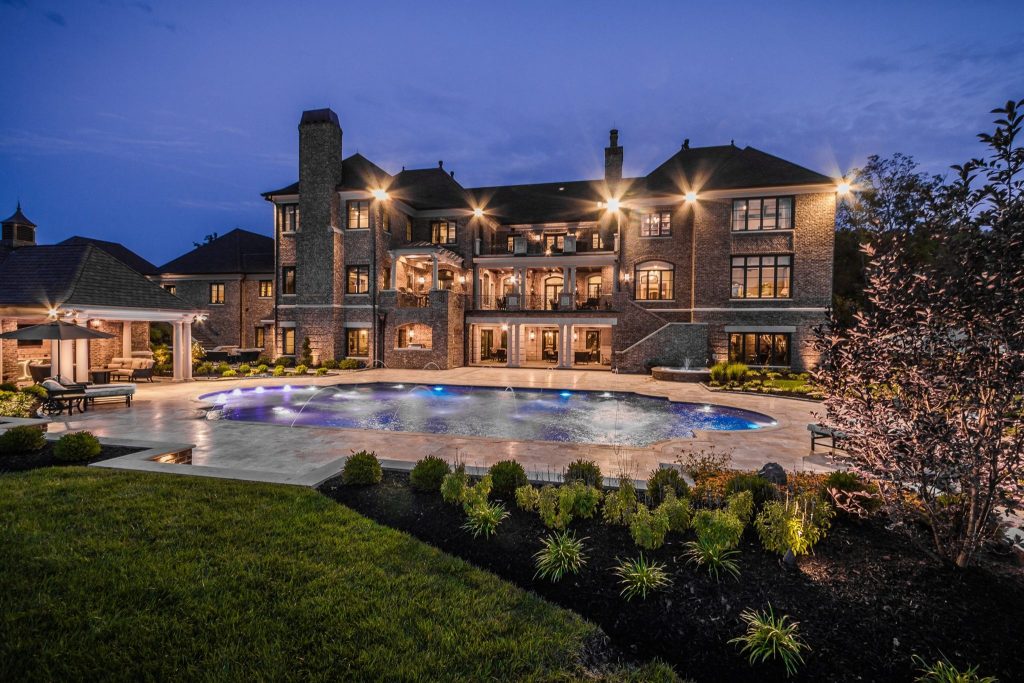 We offer travertine paver sealing, cleaning, re-sanding and repair in Miami-Dade, Palm Beach, Broward, Martin, St Lucie, Lee, Collier, Sarasota, Charlotte and Manatee County FL.
Service Areas:
Palm Beach County Area: Jupiter, Palm Beach, West Palm Beach, Tequesta, Port St Lucie, Vero Beach, Boynton Beach, Boca Raton, Pompano Beach, Palm City, Palm Beach Gardens, Lake Worth, Parkland, Delray Beach and everywhere else in Palm Beach County, Martin County and St Lucie County Florida.
Broward County: Weston, Fort Lauderdale, Parkland, Davie, Pompano Beach, Plantation and surrounding cities.
Miami-Dade County: Pinecrest, Coral Gables, Palmetto Bay, Coconut Grove, Key Biscane, Miami Shores, Miami Beach, South Miami, Bay Harbor Islands, Kendall and everywhere in-between.
Lee and Collier County Area: Naples, Fort Myers, Bonita Springs, Estero, Cape Coral, Sanibel Island, Marco Island and surrounding cities.
Sarasota, Charlotte and Manatee County Area: Sarasota, Bradenton, Venice, Englewood, Port Charlotte, Punta Gorda, North Port and Surrounding Cities
We also offer this service at all of our Ohio locations.
Please contact us by calling (561) 614-1277 ,  (954) 525-5519 ,  (239) 533-0035 , (305) 717-7708 or by completing this contact form.