Learn about our unique process for repairing, steam cleaning, installing polymeric sand and sealing travertine pavers.
Travertine pavers have quickly become the most popular choice for pool decks in Florida and even in many other parts of the US. Travertine pavers became very affordable after 9/11. This is due to a strengthening trade relationship between US and Turkey after Turkey sided with the US in the war on terrorism in Afghanistan. Prior to this, most travertine pavers found in the US came from Italy, where it was processed. Italian labor is significantly more expensive than Turkish labor, and most travertine is actually from Turkey. So, all of these things quickly made travertine a very affordable natural stone exterior surface option in the US. The use of it has been on the rise ever since. However, the best installation practice and what maintenance is necessary seems to not be known by many companies installing and maintaining travertine pavers – especially in Florida in areas like Ft Myers, Naples, Bonita Springs, Sarasota and most other parts of Florida. This is due to the volume of independent contractors across Florida who are jack off all trades.
There are many different travertine installation practices as there isn't an industry organization who has published best practices.There are also many ideas on how to maintain travertine pavers. As a result, there are many companies still performing a trial and error approach to cleaning, re-sanding and sealing travertine pavers. Most of these companies aren't successful and end up creating more of a problem that needs fixed than a solution. In some cases, these companies damage the setting bed beneath the pavers causing settling and unevenness. This happens when a pressure washer is allowed to wash out the jointing material and then erode the sand beneath the pavers.
We have developed a successful system for installing travertine pavers (our sister company Two Brothers Brick Paving) and have been installing them for many years. This expertise and experience was crucial in developing our system for restoring and maintaining travertine pavers.
The most important component of a healthy travertine paver system is the joint. Most customers and installers neglect the joint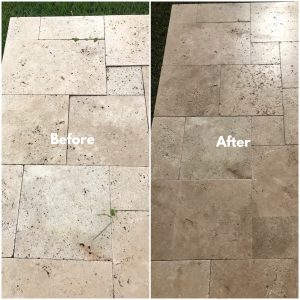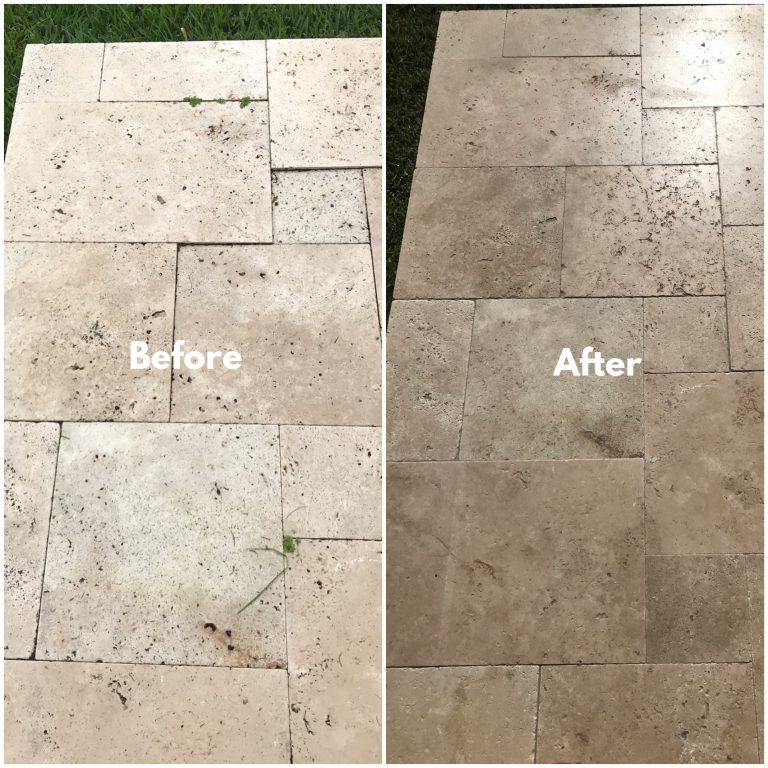 because of "how narrow it is'. This thinking is the leading cause of travertine setting bed deterioration, mold and vegetation growth and many other adverse side affects. When the joints are allowed to remain empty, heavy rain and cleaning efforts allow water to freely flow down in to the joint and erode the setting bed. In addition, when the joint is left empty, it will begin to accumulate organic build up. This organic material provides the necessary nutrients for vegetation, mold and algae to germinate and thrive. Our process removes this organic build up and remaining loose sand that may have been installed at the time of installation and replaces it with polymeric sand, which is a product that hardens in the joint like a grout.
Travertine pavers are very porous on the surface, and as a result, they carry a lot of moisture which leads to mold growth. Many companies use bleach and chlorine to treat the mold. However, if you do a quick Google search on mold remediation, you'll quickly see that these chemicals actually don't kill the mold, but instead just remove the leaf. This can be compared to what Nair Hair Remover does to hair on the body. It removes the hair, but not the hair follicle. So the hair grows right back. Same thing happens when you use bleach or chlorine on mold. Cold water pressure washing to remove mold can be compared to shaving. In most cases, these tactics motivate the mold to regenerate more and bigger leaves. Think what happens when you trim a hedge.
We offer two sealer options for travertine pavers. A Natural Look and an Enhanced Look. Both are penetrating sealers and won't create the slippery surface you may have experienced with more topical sealers. Prior to application, our technician will provide you samples of both so that you can make the right choice for your taste.
If you would like to work with us to restore and maintain your travertine pavers, please share your contact information with us here on our website and we will be happy to contact you to discuss your project and the next steps to receive an estimate. Feel free to call us (239) 533-0035.
We offer repair, steam cleaning, installation of polymeric sand and sealing of travertine pavers including pool decks, patios, driveways and all other exterior travertine installation types.
You may consider reading more information about why you should seal travertine pavers.
Our service area includes:
Southwest Florida (Naples, Ft Myers, Bonita Springs, Estero, Cape Coral, Venice, Sarasota, Bradenton and everywhere in-between).
(we also service South Florida including St Lucie, Martin, Palm Beach and Broward Counties)