– Serving all of Palm Beach, Martin and St Lucie Counties.
Don't get tricked in to cold water pressure washing your travertine pavers and sealing them with paver sealer. Our STEAM cleaning process will thoroughly clean your travertine pavers killing unwanted bacteria on contact. Our specialized travertine paver sealer will enhance and protect your travertine pavers and tiles without making them slippery, and our joint hardening sand will keep the sand and the tiles locked in to place.
LISTEN TO ONE OF OUR CUSTOMERS TALKING ABOUT THE WORK WE DID ON THEIR TRAVERTINE:
[sc_embed_player autoplay=true fileurl="http://www.perfectpaverco.com/wp-content/uploads/2018/10/Howard-Tames-Testimonial-online-audio-converter.com_.mp3″]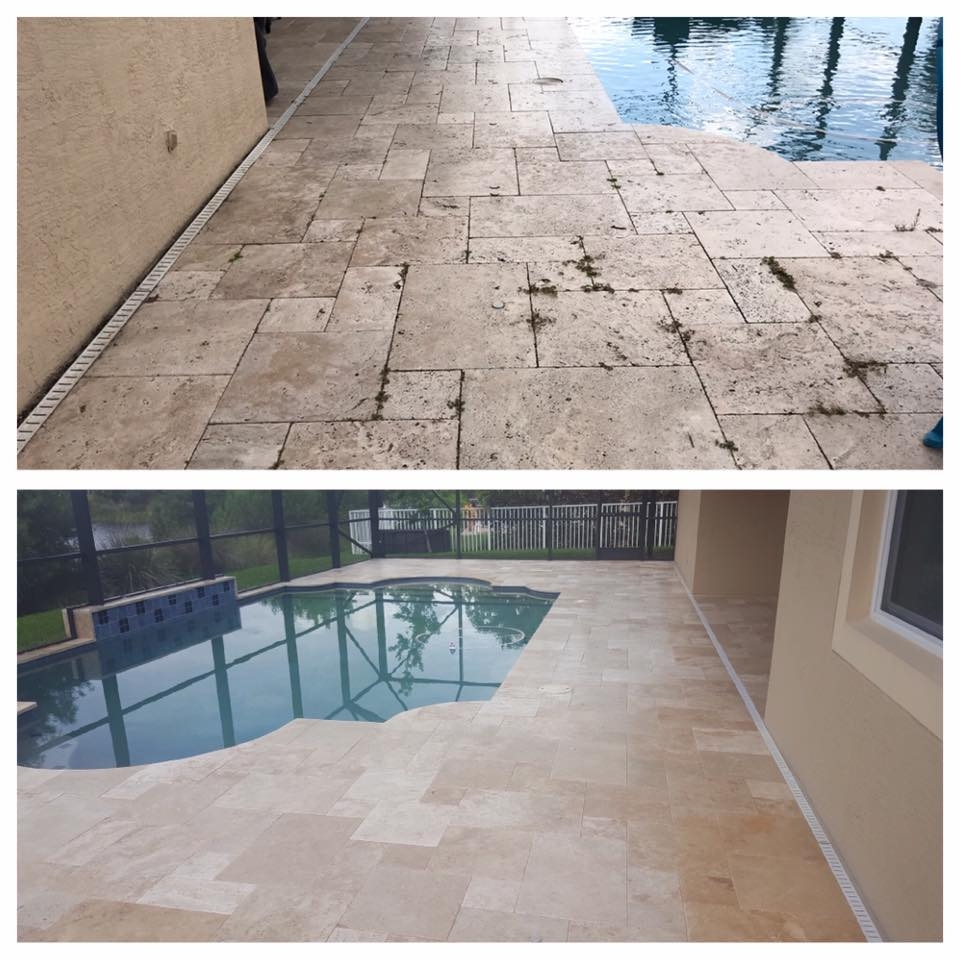 You've made the investment of improving your outdoor space by installing a travertine paver patio or pool deck. It was a great investment. It's cool under the foot during the hot summer days and it really makes your space look classy and you're proud of it. However, did you know that travertine pavers do require maintenance to keep them looking great. It's true. This is primarily due to them being very thin compared to traditional pavers. Maintenance is also required due to all of the large pores on the surface of the paver which can be a home for mold and bacteria to live and grow. Let me explain.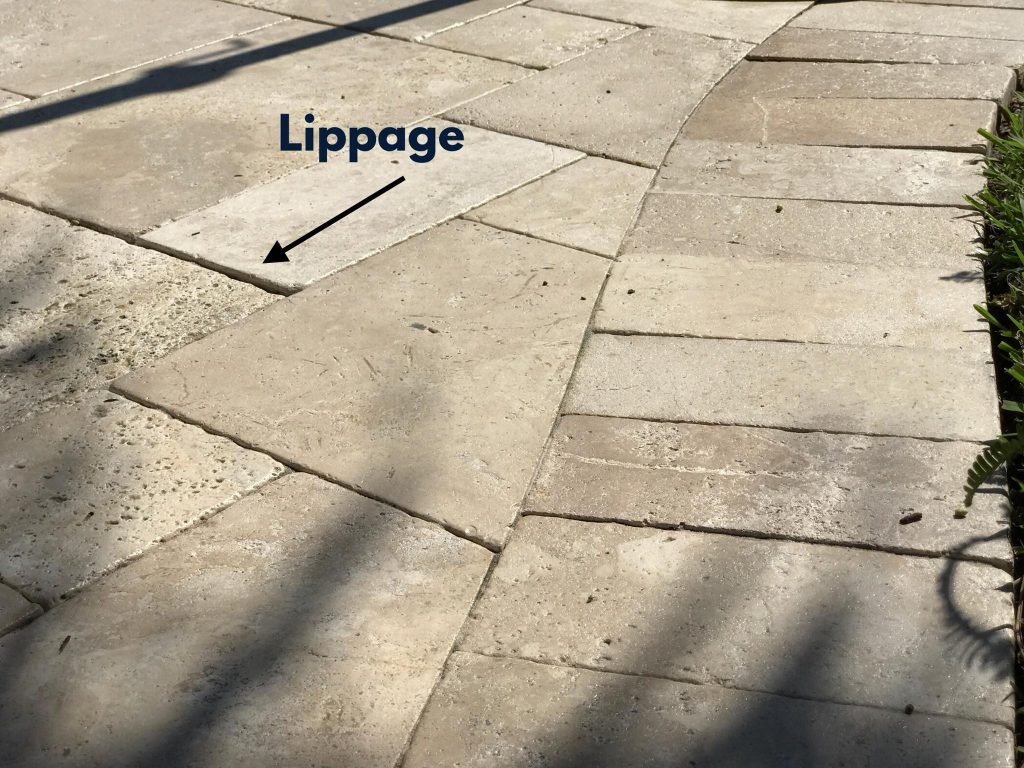 Prevent Lippage
Travertine pavers are 1-1/4″ thick. Traditional pavers are 2+" thick. When travertine pavers are installed, your installer should have added sand in between the stones. This sand causes friction between the each stone making all the individual pieces float together as one solid piece vs individual stones. This is crucial because without it, individual stones can move up and down from each other and cause lippage and also unravel at the edges. So it's absolutely crucial to keep sand between the pavers full. However, this can be quite the challenge. Heavy rains and general cleaning can easily erode the sand out.
Our travertine paver sealing process includes filling the joints between each paver, after cleaning, with a sand that has a polymer additive which hardens like mortar once we activate it. This keeps the sand locked in and helps prevent separation and lippage caused from pavers moving independent of each other.
Prevent Mold and Bacteria Growth
The pores inside and on the surface of travertine can be the perfect breeding ground for mold and unwanted bacteria to grow. Simply cold water pressure washing the surface of the paver can appear to remove the mold, however, this process is simply removing the leaf leaving the spore still intact. In fact, cold water pressure washing mold can be similar to cutting grass. When you cut grass, it grows back fuller and stronger. In addition, each time you pressure wash the pavers you're running the risk of removing the sand between the pavers and also undermining the sand setting bed beneath the pavers, which can be costly to repair. Our STEAM cleaning process of cleaning travertine pavers kills mold and bacteria on contact.
To help stop the growth of this mold and bacteria, we seal the pavers using a specialized sealer designed for natural stone. This sealer soaks down in to the pores of the paver filling the void so that its harder for mold to grow. The sealer will also keep the surface cleaner by allowing dirt and debris to easily rinse off the surface during rains similar to a waxed car. And, as a bonus, the sealer will enhance the colors in your travertine a bit making it look even better than when it was installed.
It's important to not seal travertine using traditional concrete or paver sealers. These sealers are thick and travertine is very dense. This means the sealer will simply lie on the surface creating a very, very slippery surface. In addition, the sealer to travertine bond will break down quickly causing your sealer to turn white. Then the sealer will need to be stripped, which can be very costly.
This is why we've developed a special sealing process and product specifically for sealing travertine. We use a "Wax On, Wax Off" approach to minimize the sealer buildup on the surface of the paver (sealer buildup on top of the paver is what makes them slippery after sealing). Our sealer is an impregnating sealer that soaks down in to the travertine and protects from within. It is also microporous, meaning it allows moisture and water to transfer in and out of the stone. This is a natural process that you do not want to prevent. Florida has a high water table level and water is always trying to escape the surface, don't trap it in.
Hire The Perfect Paver Co of Palm Beach Gardens
We truly are the experts when it comes to travertine paver maintenance. In fact, we're also the experts at installing travertine pavers. Our sister company has installed some of the most high-end travertine paver installations in the Midwest. Here are a few pictures. So we really understand travertine pavers.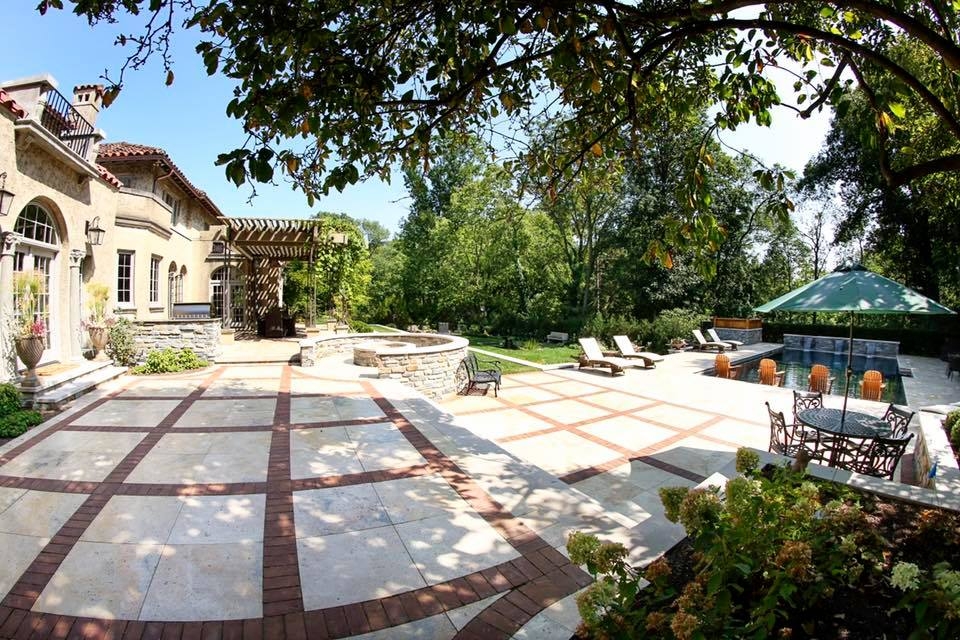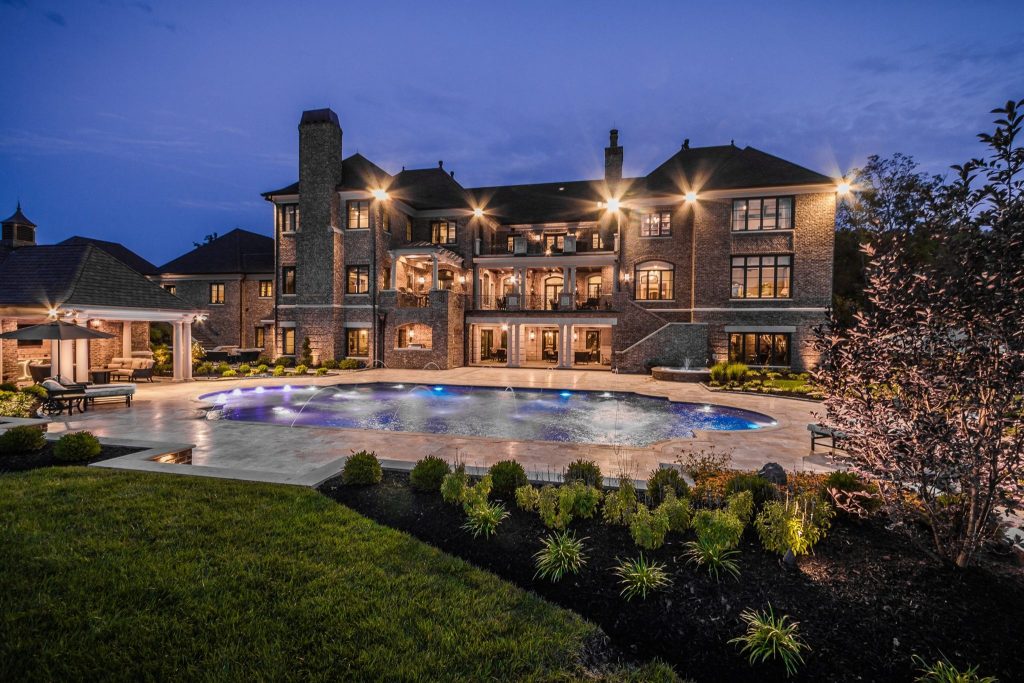 Watch our video to learn a little more about us and our process:
We offer travertine paver sealing, cleaning, re-sanding and repair in Palm Beach, Martin and St Lucie County FL.
Jupiter, West Palm Beach, Boca Raton, Boynton Beach, Stuart, Delray Beach, Port St Lucie and surrounding cities and towns in Florida. We also offer this service at all of our Ohio locations.
Please contact us by calling (561) 614-1277 or by completing this contact form.