SCROLL BELOW TO SEE THE WORK WE'RE DOING RIGHT NOW AT THE ISLAND CLUB ENTRANCE – WE'RE UPDATING THIS PAGE THROUGHOUT THE PROCESS
Hi PGA Village Community. You've probably seen our trucks driving around the PGA Village community or possibly even working for one of your neighbors. We're writing this post to introduce ourselves to you if you're unfamiliar with us and explain our services, share some details and pictures of some of the projects we've completed for your neighbors.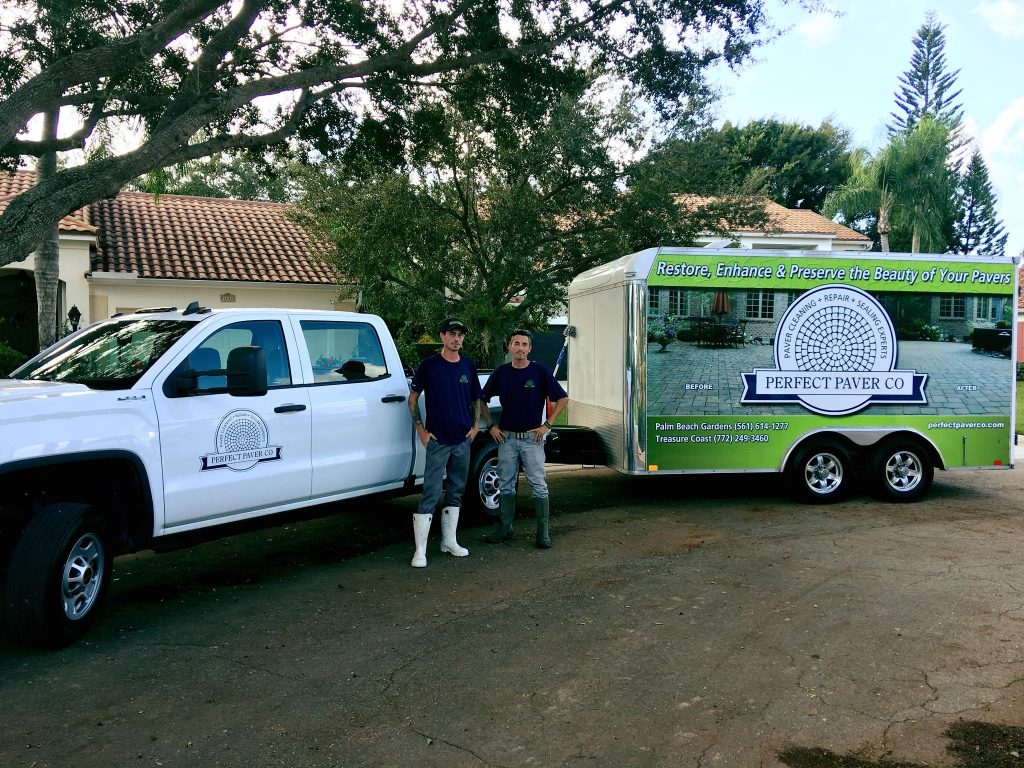 Starting December 10th, See Our Work At The Entrance to The Island Club Clubhouse – Check Back Frequently As We'll Be Posting Videos and Pictures Here Of the Work We're Doing.
We've been hired by the PGA Village HOA to steam clean, re-sand the joints with polymeric sand and seal the pavers at the entrance to the Island Club Clubhouse as well as the pool deck. We will be starting this process on the Entrance Only starting Dec 10th, and at a later date we will be back to do the pool deck. Please feel free to come see us work, talk to our team and see how great we make the pavers at the entrance look.
Last Update: Dec 10, 12:40pm
DEC 10 12:40PM – WE'VE FINISHED CLEANING THE PAVERS
DEC 10 9:30AM – WE'VE STARTED THE STEAM CLEANING PROCESS
DEC 10TH 8:00AM – WE'VE ARRIVED AND ARE GETTING STARTED WITH THE STEAM CLEANING PROCESS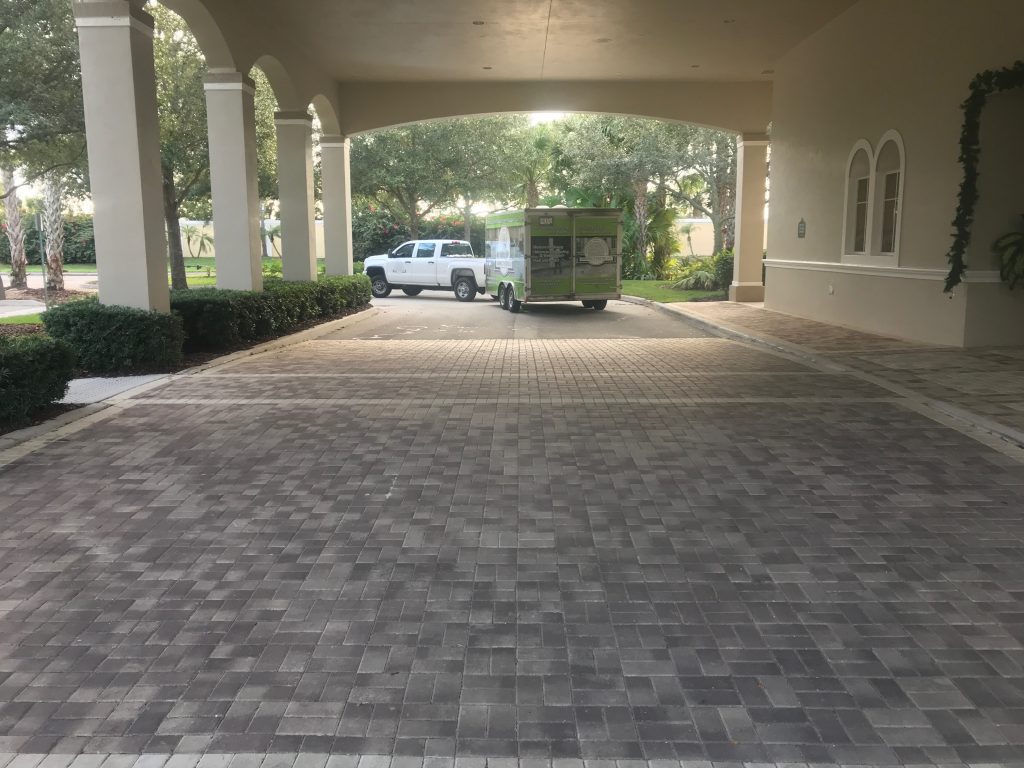 THESE ARE PICTURES TAKEN BEFORE WE'VE STARTED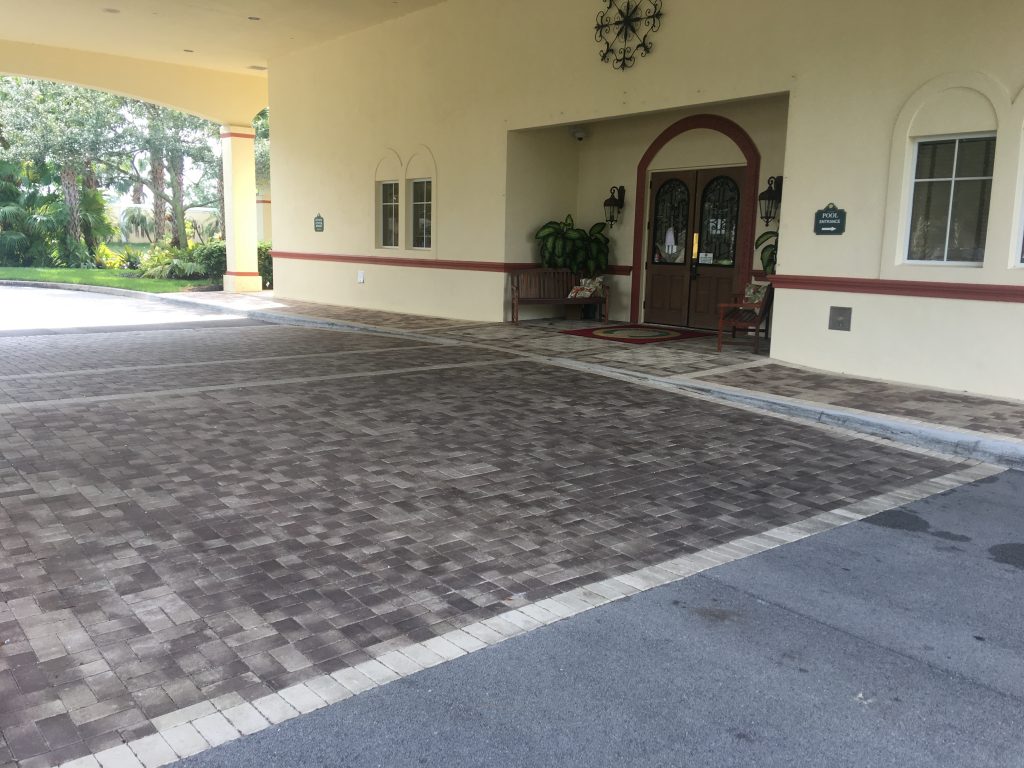 THESE ARE PICTURES TAKEN BEFORE WE'VE STARTED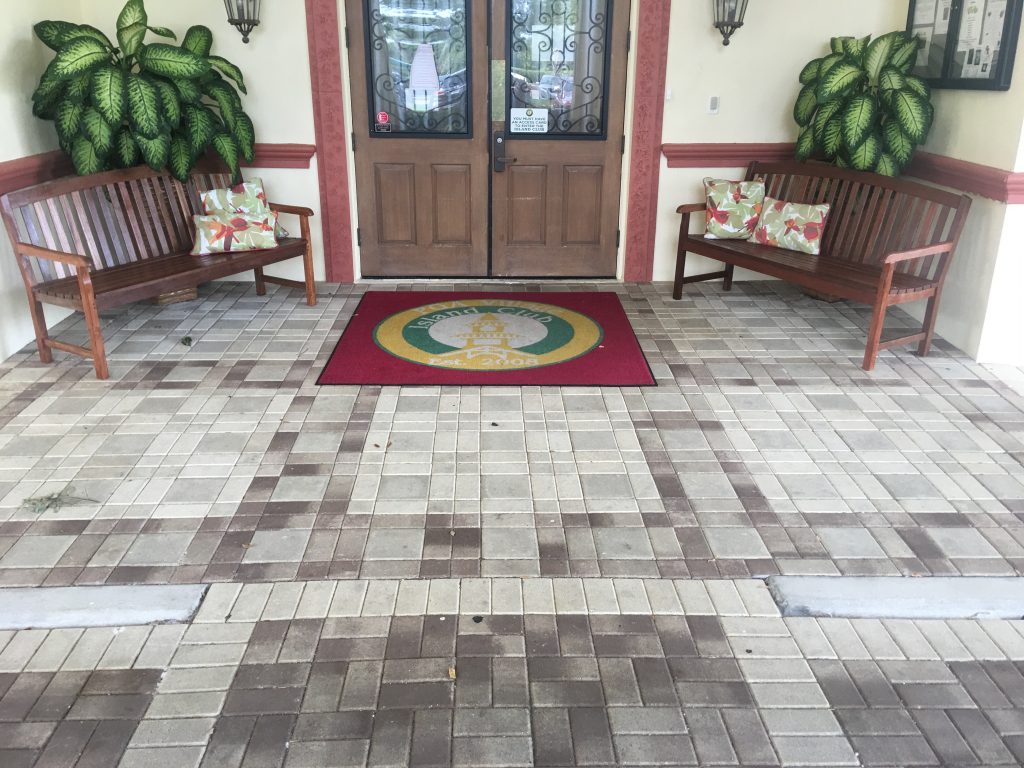 Update
So What Does Perfect Paver Co Do?
We specialize in the restoration, cleaning, repair, maintenance and sealing of pavers, natural stone like travertine and concrete. We've developed a unique process for restoring the color in pavers and making them look their best. To do this, we've developed a steam cleaning process that we do on pavers which achieves an superior level of clean and also kills mold on contact due to the high heat. During this cleaning process, we will also be washing out the organic build-up and dirt from the joints of the pavers – this build-up is the leading cause of mold and vegetation growth on the pavers. We then fill this void back with a product called polymeric sand. This is a mixture of natural sand and a binding agent. Once it's installed, it turns rock hard and locks itself in to place. We then seal the pavers or natural stone with our Color Boosting Water Based Acrylic sealer that will enhance the color in the pavers and protect them and keep them looking great longer.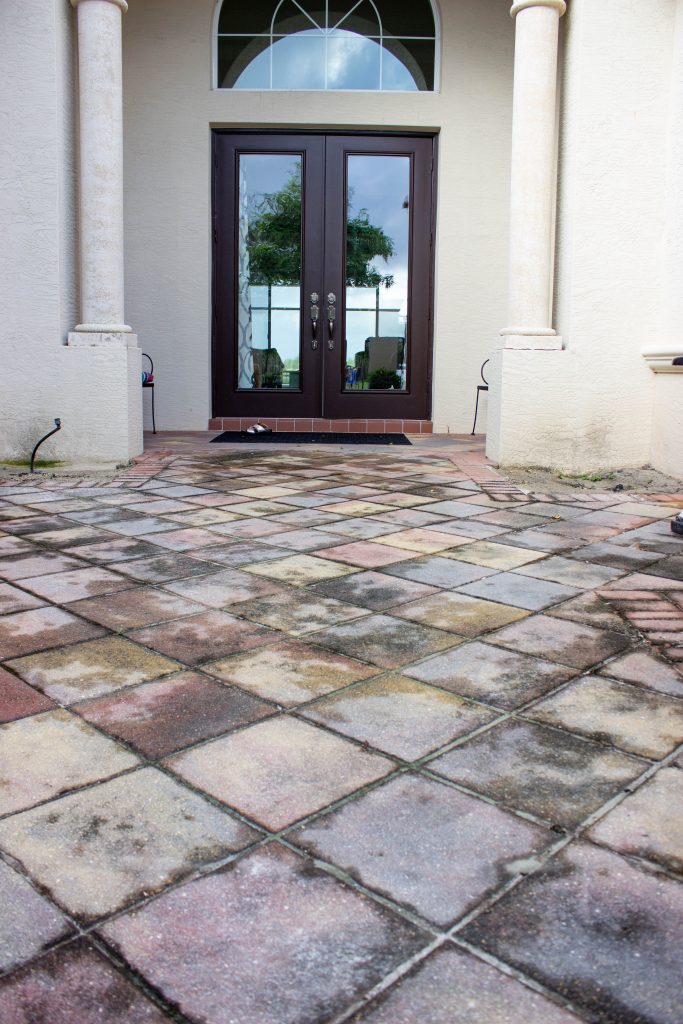 Before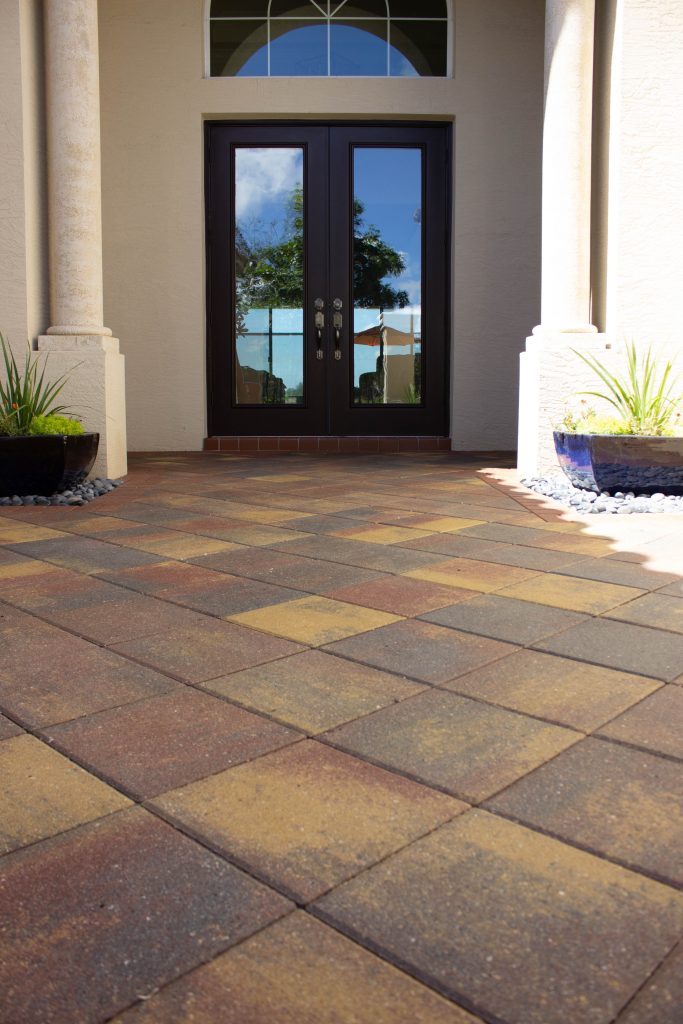 After
What some of your neighbors in PGA Village have to say about us.
John Wright | 8108 Alister Pl, PGA Village
David and Linda Horan | 10120 Crobsy Pl, PGA Village
Mark and Lynn Regan | 8105 Alister Pl, PGA Village
Jobs we've done – drive by and take a look!
7424 Laurels Place
9030 Pumpkin Ridge
8028 Links Way
7618 Greenbrier Cir
9325 Briarcliff Trce
9337 Briarcliff Trce
7950 Poppy Hills Lane
8136 Links Way
7912 Links Way
7936 Links Way
10116 Crobsy Pl
10120 Crobsy Pl
10113 Spyglass Ln
8019 Links Way
7901 Links Way
8101 Alister Pl
10137 Spyglass Ln
Had a Bad Experience With Paver Sealing? You're Not Alone
We've noticed almost an unprecedented amount of bad sealer jobs in the PGA Village Community. In fact, its so bad that it prompted us to take a couple impromptu videos showing the problems, which you can see below. How to tell a bad sealer job? It's actually really easy. Just look for driveways where the sealer has turned a hazy white and possibly even started to peal up. This is due to improper installation and also using the wrong type of sealer on the pavers. Most of these "bad sealer jobs" have had a poor quality solvent based or water based sealer applied to them. These poor quality sealers are designed to trap water out of the paver. Consequently, they trap moisture in to the paver. Florida has a high water table level and water is always trying to escape through the surface. It comes up to the sealer and gets trapped. Over time, this process starts to develop a hydraulic pressure that eventually pushes the sealer up and delaminates it from the paver. This void space fills up with this moisture and turns the sealer a hazy white. In order to fix this, we have to chemically strip and clean with very very hot temperature water.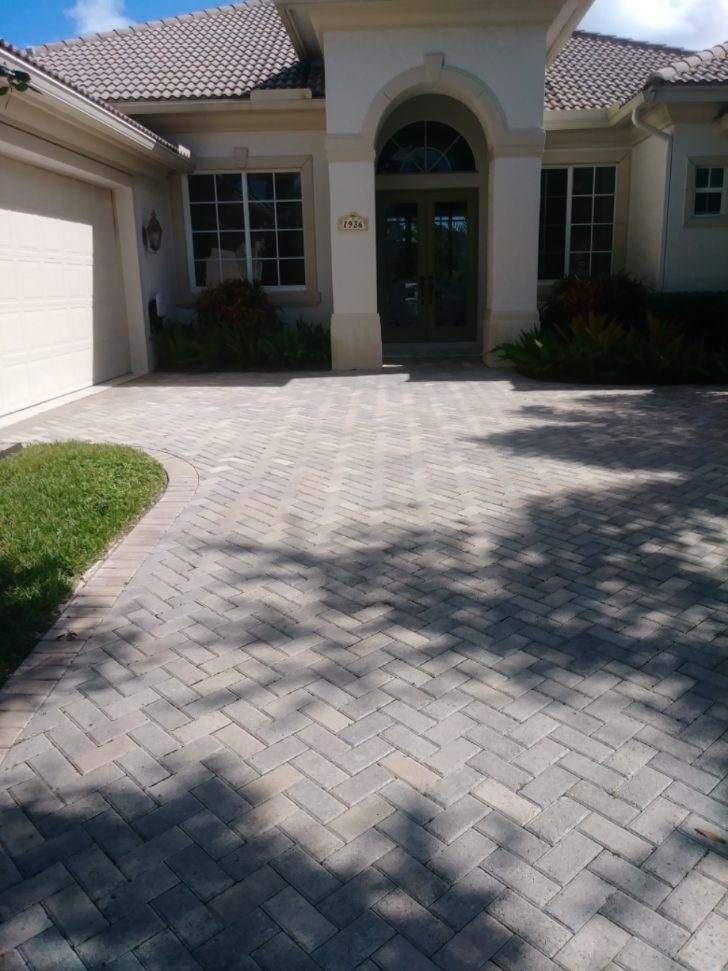 Before – Note the White Haze On the Pavers (BAD SEALER)
7936 Links Way, PGA Village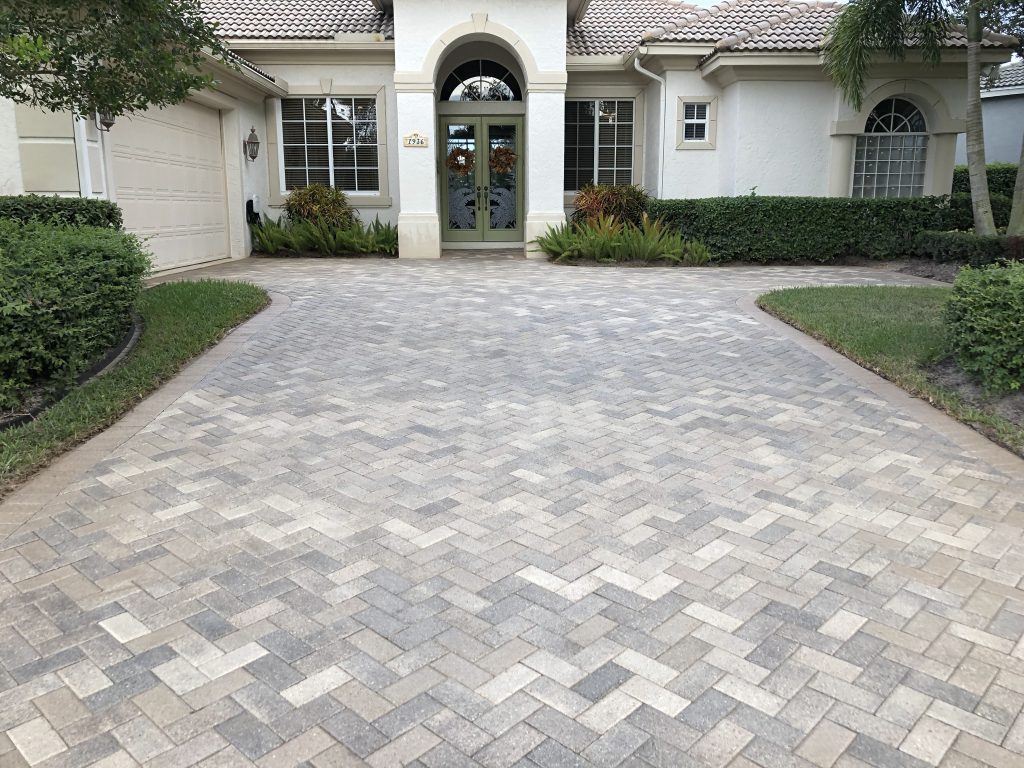 After – Notice all the Colors are Back (We Stripped off the BAD SEALER and Re-Sealed)
7936 Links Way, PGA Village
Discuss Your Project With Us
If you would like to discuss your project with us, please don't hesitate to call. We're in PGA Village working almost weekly, and we would be happy to meet with you to show you how we can restore the life in your pavers and remove that bad sealer job if necessary. Call (561) 614-1277 or complete the contact form here on our website: Free Estimate