The Perfect Paver Co of Palm Beach is not your average paver cleaning and sealing company in Florida. You'll find that most companies start out in the paver sealing business as pressure washers, painters, handymen, etc. Not us. Before we started paver restoration and maintenance, we were hi-end paver installers. In fact, our sister company (owned by the same owner who's active day-to-day in both companies) still is today. So when it comes to paver repair, there is no other company as qualified to make the repair correctly than us.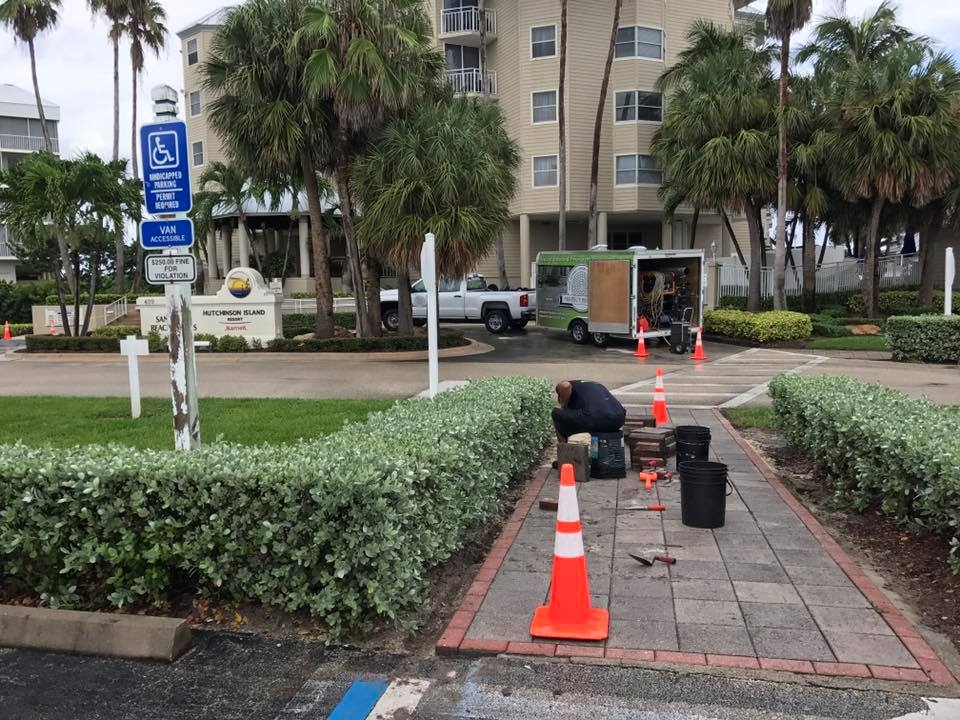 Types of Paver Repair in Florida
We offer paver repair, brick paver repair, travertine paver repair, marble paver repair, limestone paver repair, natural stone repair, Chicago brick repair, paver edging repair, paverstone repair, repair pavers, pool deck repair, tuck pointing, polymeric sand repair, pool coping repair, grout repair, terra cotta repair, and many other types of exterior tile and stone repairs.
We currently provide paver repair in Jupiter, Tequesta, Palm Beach Gardens, Port St Lucie, Vero Beach, Wellington, Boynton Beach, Delray Beach, Boca Raton, West Palm Beach, Stuart, Lake Worth and surrounding areas.
We offer paver repair for commercial and residential clients.
Here in Florida, pavers are installed differently than just about anywhere else in the US. Sometimes this is a good thing, but most times it's not. As you know here in FL, corners are often times cut and its executable because, well that's just how it's done here in Florida.
It doesn't have to be that way though. As an Ohio based company, we have a Midwesterners quality craftsmanship and style of customer service.
We often hear from our clients that they've hired companies to fix their pavers in the past and the same issue would be back the next year. Typically, not the case with The Perfect Paver Co of Palm Beach. We really try hard to make each paver repair long term by understanding the underlying issue and then correcting the issue first or educating you on what the issue is if something outside of the paver system is causing the issue; I.E. animals, drainage, erosion, etc.
The main types of paver repairs we see here in Florida are drainage, erosion and root based repairs. We also see repair a lot of paver edging. Again, we're really big on discovering the underlying cause of the failure and addressing that with you.
Give us a shot
If you're ready to have that paver driveway repair, paver patio repair or natural stone/tile repair completed by a company that truly cares and is highly capable, please consider contacting The Perfect Paver Co of Palm Beach Gardens.
Free Estimate
We offer paver repair in Palm Beach, Martin, Indian River and St Lucie Counties in Florida.